Hillbilly Hike Half Marathon, 10K, & Greubel 5K
in United States at Carlisle High School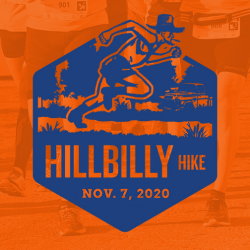 Half Marathon

Online registration is closed for this category.




---

10K

Online registration is closed for this category.




---

5K

Online registration is closed for this category.




---

Virtual Runner
Includes T-Shirt, Medal & Shipping!

Online registration is closed for this category.




---

Donation Only

Online registration is closed for this category.




---

Transfer Existing Entry to New Registrant
Original participant must transfer out of the event to receive a transfer code. The new participant must use the transfer code to transfer into the event.

Online registration is closed for this category.




---

Withdrawn

Online registration is closed for this category.




---
| | | |
| --- | --- | --- |
| | | Summary |
Our annual Half Marathon,10k, and Greubel 5k races are a fundraiser for Thrive Mission Team. Since 2020 has provided so many challenges, we are limiting participant numbers and expect a sell out. Two start lines: Half and 10k are combined, with one finish line. Half marathon will start with a rolling start at 8:00-8:15 followed by the 10K between 8:20-8:30 and the 5k at 8:30. We offer chip timing, super soft ring spun shirts, custom die cast medals to all, and age division awards. The half marathon and 10k for 2020 will be an out and back. We added a Greubel Memorial 5k in 2017 to fundraise for three kids in our church and community who tragically lost their parents. The 5k is also an out at back. Funds from the 5k will go towards college savings plans. Folks love our courses because they are flat and fast; the Half is downhill, then flat. When you reach the finish line, you will be greeted with festive music and a to-go bag of food. You can also pick up your custom medal at the finish line.
| | | |
| --- | --- | --- |
| | | Safety Measures |
Do not attend if you have:


Tested positive for Covid -19 within 10 days of race day

Fever

Chills

Uncharacteristic sore throat, muscle pain, shortness of breath

New loss of taste or smell

[*]Been in close contact with someone who has COVID –19 for more 15 minutes.
| | | |
| --- | --- | --- |
| | | Event Details |
Participants can park at the Lower Lot Carlisle High School (430 School Street), (additional parking will be made know when comes available)

Half Marathon
Begins at 8:00am at Summerset Trailhead, in Carlisle, IA (out and back)
Bag drop at the start and baggage claim at the finish
Awards to top 3 Men & Women in 5-yr age increments.

10k
Race begins at 8:20 am at Summerset Trailhead, in Carlisle, IA (out and back)
Bag drop at the start and baggage claim at the finish
Awards to top 2 Men & Women in 5-yr age increments.


5k
Race begins at 8:00 am near the Summerset Trailhead, Carlisle, IA
Park at the Carlisle High School
Bag drop is available for this race
Awards to top 2 Men & Women in 5-yr age increments.

The Half Marathon course is out and back. It is flat with a limited elevation change of approx. 60 ft. You can look forward to scenic bridges, water stations, scenic lakes, woodlands, farmlands, wetlands and prairie along with volunteers dressed in entertaining costumes to cheer you on every 2 miles, as you make your way back to the finish line. The course showcases a rainbow of the state's natural heritage. The 10k and 5k are also both flat.

All courses are primarily on the beautiful Summerset Trail (former Rail Trail). Iowa is famous for its beautiful and picturesque cornfields, but for a taste of all things Iowa, the Summerset Trail in south-central Iowa is your ticket. All three races welcome all paces including walkers. You may hear roosters crowing and cows mooing all while taking in the beautiful fall colors.

The Half Marathon course will start at the trailhead in Carlisle. We will have a clear marker and cones set up approx. 6ft apart. As you wind your way to the start line, we will start two runners every 5 seconds and your time will begin when you cross the start line mat. You will stay on the trail for the first 5 miles where you will make a marked right hand turn into Summerset State Park where you will follow the signs and traffic control people as you make a loop around the lake. After the loop, you will exit the park and continue right (south) to Half Marathon turnaround. At the turn around, you are on the "home stretch" straight back to the finishing line where your medal awaits.
The 10k course is also out and back. It will start in Carlisle, Iowa at the head of Summerset State Park. The start will also be a rolling/timed start. Follow the trail until you see the 10K turnaround where you will head back to the finish line.

The 5k course is simply an out and back which starts close to the finish line. It, too, will allow for full width of paved road to allow plenty space for the start before funneling onto the paved Summerset Trail. Both the 10k and 5k courses will be accurately measured using Google Earth.

There will be plenty of restrooms at the start line as well as throughout the course.

Please register early to insure that you receive a medal, shirt, transportation, etc.

Race day packet pick-up and registration starts at 6:45 am on the east side of the Carlisle High School.

We offer Hillbilly Bag Drop for all three races- bring a bag, write your number on your bag. We will supervise your bag and bring it to the finish line and place it in order by bib number. Bag collection will be loosely monitored; in other words don't put valuables in your bag.
| | | |
| --- | --- | --- |
| | | Hillbilly Hike 2020 Modifications |
Half Marathon- modified 13.1 that will start and finish in Carlisle.

10k will begin 8:20 am and 5k 8:30 am both STARTING In Carlisle

Hand sanitizer at restrooms

No congregating at finish line or start lines

Chip timing start with rolling/times start to maintain social distance

Medals will be picked up from "medal table" or will be placed in to-go food bags

Food will be in to-go style; grab a bag and go!

Results will be posted online with link provided in runners packet

Cheerleaders/family members are not to be at start/finish lines

Water stations with be spread throughout course.

Runners are encouraged to bring own hydration packs

Water stations workers will wear gloves and masks

Water will be prefilled on a table so you will have to grab your own (on a limited basis some water may be handed out by volunteers depending on the comfort level of both parties)

Masks will be strongly encouraged by all participants prior to starting and after finishing race.

No race day registration

Last day to register 11/4

Can switch to virtual anytime up to 11/4

Cancelling the "team" event this year

Medals and shirt guaranteed to first 600 registered runners. 600 is a sell out!

Packet pickup TBD

Covid self/screening needs to be completed prior to race

[*]Parking may be limited
| | | |
| --- | --- | --- |
| | | Race Packets |
Thursday, November 5th in Indianola, Iowa at Thrive Church (707 E Euclid Ave) 5-7 pm
Friday. November 6th at Fitness Sports (8810 Swanson Blvd, Clive, IA 50325) 4-6 pm
LIMITED RACE DAY packet pick up

Details of packet pick up will be relayed at the beginning of the Race week by November 3rd!

If you trust your friend – we will allow them to pick up your packet for you.
| | | |
| --- | --- | --- |
| | | Hillbilly Hike Shirts and Medals |
Your super comfy ring-spun shirt will soon become a wardrobe favorite. Ring-spun cotton is created by continuously twisting and thinning the cotton strands, making a very fine rope of cotton fibers. The twisting makes the short hairs of the cotton stand out, resulting in a stronger yarn that is significantly softer. We DO take your size however after 10/14 size is not guaranteed. Please understand that we have to order shirts 3-4 weeks prior to race day. Our shirts are unisex, women should order one size down for a slimmer fit.

| | | |
| --- | --- | --- |
| | | Awards |
Everyone who crosses the finish line will receive a custom die cast medal.

Age Division Awards to top 3 Men & Women in 5-yr age increments for Half. Age Division Awards to top 2 Men & Women in 5-yr age increments for 10k & 5k. Awards include a $15 discount for next year's race. Age Division Awards will be emailed after the race.
| | | |
| --- | --- | --- |
| | | Team Entry 2020 |
This year we are offering prizes for Team registration.
Prizes are yet to be determined. They will be announced in early 2020.
Athletes will either input a Team name or choose an existing Team at time of electronic registration.
There are 3 Prizes categories.

1. Largest team, determined by the GMR database
2. Team with greatest amount raised for family in Belize, determined by the GMR database
3. Team with best costumes, determined by the Photoboth photographer

How it Works:
a) Runners will enter Team Name at time of registration
b) Team standing will be updated monthly Jan-August and weekly beginning September 15th
c) No changing team or adding team after registration
d) Prizes will be announced by 11 am at the Finish Line on race day
| | | |
| --- | --- | --- |
| | | Past Results |
| | | |
| --- | --- | --- |
| | | What others say.... |
| | | |
| --- | --- | --- |
| | | Maps |
| | | |
| --- | --- | --- |
| | | Drone Highlights from 2018 |
| | | |
| --- | --- | --- |
| | | Your donations help us to help others! |
| | | |
| --- | --- | --- |
| | | Become a Sponsor |
Join us in welcoming our returning athletes and their friends to our caring community. We are so proud and fortunate to live in an active community that offers so many things to do and see. It is our pleasure to share the unique beauty and hospitality that you can only find in Warren County.

We have received fantastic feedback from our post-race surveys. Our races are valued for being affordable yet quality events. Our family friendly events are a positive for our community. The majority of participants noted that they plan to return and would encourage friends to join them. We plan to grow this event and continue it for years to come. Endurance events such as ours are high profile events. They represent health and fitness, internal drive, perseverance, dreams and accomplishment! Our mission is to serve runners, walkers, and our community through a fun, safe, and scenic event. Our event is designed to draw participants of all abilities, ages, ethnic backgrounds.

We would love to add your name to our ever growing list of sponsors. Please don't hesitate to contact us with any questions.

Julie Daugherty
Hillbilly Hike Sponsorship Chair
515-979-3428
daugherty_julie@yahoo.com
| | | |
| --- | --- | --- |
| | | Questions |
For event related questions please email iowa.hillbilly.hike@gmail.com or click on the Contact the Organizers button on the left-hand side of this page.
---
When this page loaded, the official time was 5:22:23 AM EDT.