FDIC Courage and Valor 5K - 12th Annual
in United States at Indiana State Museum Lawn, White River State Park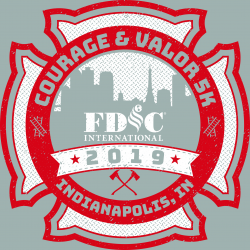 5K - Individual Participant

Online registration is closed for this category.




---
| | | |
| --- | --- | --- |
| | | Date and Time |
FDIC Courage and Valor 5K
April 11, 2019
6:00 PM Start Time
| | | |
| --- | --- | --- |
| | | Location |
Indiana State Museum Lawn
White River State Park
801 W. Washington Street
Indianapolis, IN 46204
| | | |
| --- | --- | --- |
| | | About The Event |
A 5K Run/Walk - competitive and non-competitive. The event is part of the FDIC national convention (Fire Department Instructor's Conference). The event is open to everyone.

All proceeds go to help sponsor the Ray Downey Courage and Valor Award, which commemorates the life and career achievements of firefighters who risk their lives for the citizens whom they serve. This award is presented each year to one outstanding firefighter at the FDIC convention.
| | | |
| --- | --- | --- |
| | | Information |
The 12th annual FDIC Courage and Valor Fun Run will take place Thursday April 11 at 6 PM at the White River State Park located just a short walk from the Indianapolis convention center.

The scenic flat fast course winds around the canal and provides runners with an absolutely safe (no traffic crossings) and scenic opportunity to enjoy a brisk fun run with their fellow firefighters.

Timing and management of the run is going to be handled by Tuxedo Brothers for the more serious runners among us. For the rest of us it's a chance to get out and show our commitment to good health and well-being. FDIC is where leaders go to train. If we say we are leading the fire service, then we need to lead by example.

The run will conclude with a short presentation where the awards will be given out near the finish line to the top finishers of the event.
| | | |
| --- | --- | --- |
| | | Shirts |
Nicely designed shirts will be given to all pre-registered participants. It will be first-come first-served on event day for T-shirts (no guarantee on availability or size).
| | | |
| --- | --- | --- |
| | | Packet Pick-Up |
Only those participants pre-registered by 8:00pm on Tuesday, April 9 may pick up their packet at the Indianapolis Convention Center in the HOOSIER HALLWAY (Still in the Hoosier Corridor, but outside of ROOM 143, during the following times:
Times: Wednesday, April 10 from 10:00 a.m. - 5:00 p.m.
Thursday, April 11 from 7:30 a.m. - 12:00 p.m.

Any participant who registers online after 8:00pm on Tuesday, April 9 MUST pick up their packet at White River State Park (race site) on Thursday, April 11 from 4:00 p.m. - 6 p.m.

Registration will be available at the Courage and Valor 5K booth in the convention center, in the Hoosier Corridor, outside of ROOM 143, at the following times:
Monday, April 8 and Tuesday, April 9 from 8:00 a.m. - 5:00 p.m.
Wednesday, April 10 from 10:00 a.m. -5:00 p.m.
Thursday, April 11, 7:30 a.m. -12:00 p.m.

Please CLICK HERE to view FDIC event site map to help you find the our NEW location outside of room 143.
| | | |
| --- | --- | --- |
| | | Questions? |
For further questions about the event, contact Jason Springer at Jason@TuxBro.com
---
When this page loaded, the official time was 5:16:43 AM EDT.