DeWitt Crossroads Triathlon
in United States at Killdeer Recreation Area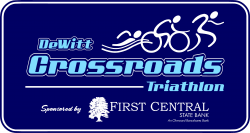 Adult Triathlon
Due to late registration, the giveaway item is no longer available

Online registration is closed for this category.




---

3 Person Relay Team
Due to late registration, the giveaway item is no longer available

Online registration is closed for this category.




---

Withdrawn

Online registration is closed for this category.




---
| | | |
| --- | --- | --- |
| | | Adult Triathlon |
TEAMS
If you are registering as a team, the team Captain will create a team name, register all team members and pay for the entire cost of the team. EVERY ATHLETE MUST BE REGISTERED EVEN IF THEY ARE PART OF A TEAM  Team Captain will need the following information from their teammates: 
First name:
Last name:
Gender: 
Email address:
Date of birth:       
Shirt size:
USA Triathlon membership ID (a one day pass can be purchased during registration if needed)
Event you will participate in for your team:   Swim, Bike, Run
Emergency Contact Name
Emergency Contact Phone
Acknowledgement that you agree to the DCT's refund policy.
"Please understand that the DeWitt Crossroads Triathlon has a NO refund policy. We will make every effort to allow you to transfer your entry to someone else, but the race has real expenses that are based on the number registered, not the number who show. Thank you for understanding."
Acknowledgement that you understand that you must pick up my own packet and show a picture ID. NO Exceptions
Any relevant medical information that we should have on file prior to the race? 
If you are allergic to latex, bring your own non-latex swim cap.

COURSE INFO:

SWIM:
Time Trial Start begins at 8:00 a.m. sharp. Enter the water in pairs.
The course is an out-and back triangle, 500 yard swim in Lake Killdeer.
Boats and safety personnel will be on (and around) the lake during the swim.

Wetsuits
Article IV.4 – Each age group participant shall be permitted to wear a wetsuit without penalty in any event sanctioned by USA Triathlon up to and including a water temperature of 78 degrees Fahrenheit. When the water temperature is greater than 78 degrees but less than 84 degrees Fahrenheit, age group participants may wear a wetsuit at their own discretion, provided, however that participants who wears a wetsuit within such temperature range shall not be eligible for prizes or awards. Above 84 degrees, wetsuits are prohibited


LINKS:
Swim Course Map
Transition 1 Map
Bike Course Map
Transition 2 Map
Run Course Map

BIKE:
Our challenging 15 mile bike course will take you West on Old Highway 30, past Central DeWitt High School and then North on Humeston Road/290th Avenue, roughly 4 miles, and turn around. Riders will then turn left on Old Highway 30 and travel back to the Central DeWitt High School (T2 - Transition#2). You must walk your bike while in the transition area.


Helmets: Only helmets approved by the US Consumer Product Safety Commission (CPSC) may be used in USAT sanctioned events. Helmets must be worn at all times while on your bike. This means before, during, and after the event.
Penalty: Disqualification


Drafting: Drafting--keep at least three bike lengths of clear space between you and the cyclist in front. If you move into the zone, you must pass within 15 seconds. Position--keep to the right hand side of the lane of travel unless passing. Blocking--riding on the left side of the lane without passing anyone and interfering with other cyclists attempting to pass. Overtaken--once passed, you must immediately exit the draft zone from the rear, before attempting to pass again. USAT Marshals will patrol the bike
Penalty: Variable time penalty


RUN:
The 5k (3.1 miles) run is flat and fast. Participants will leave Central DeWitt High School and skirt the outer residential area of DeWitt. Your run number (bib) MUST be worn on the front during the run.

Water will be available at T2, Mile 1, Mile 1.5, Mile 2, Finish Line and post race party.

AWARDS:
Awards will begin promptly at 10:30 a.m. on race day!
| | | |
| --- | --- | --- |
| | | 2019 Race Information |
Event Date: Saturday, August 3, 2019
Start Time: 8:00 AM
Location: DeWitt, IA
Start: Killdeer Recreation Area, 2471 330th Ave. (north side of Hwy. 30)
Finish: Central DeWitt High School, 519 E 11th St, DeWitt, IA 52742

Please visit our website http://crossroadstriathlon.com for race info and updates.
You can also link to our Facebook page https://www.facebook.com/groups/164327783700286/

Race Director, Kevin Lake, will send updates via e-mail to all registered participants as the race approaches.

Event Shirts: Event shirts are unisex sizing.
To secure your desired shirt size, please register prior to the deadline.

Late Entries:Late entries will be accepted if space permits. 200 maximum athletes for 2019.

Registered by June 1 - $45 Individual/$90 Team
Registered after June 1 - $55 Individual/$100 Team
| | | |
| --- | --- | --- |
| | | IMPORTANT INFO: USAT |
Per USAT rules, your age on December 31st, 2019 will be the age group you will compete in on race day. Age is NOT determined by your age on race day.
| | | |
| --- | --- | --- |
| | | Packet Pick Up |
Wednesday, July 31st, 2019
4:30 – 6:00 PM Crawford Brew Works, LLC
3659 Devils Glen Rd, Bettendorf, IA 52722
(563) 332-0243
crawfordbrewworks.com

Thursday, August 1st, 2019
4:00 – 6:00 PM
Central DeWitt HS – Auxiliary Gymnasium enter Door #34
519 E 11th St
DeWitt, IA 52742

Please note:
You are responsible to pick up your packet. A photo ID will be required. Your USAT membership card will be required if you have one.

Race organizers will not be able to ship packets (after the event) for participants who don't claim their packet.
| | | |
| --- | --- | --- |
| | | Distances |
500 Yard Swim - 15 Mile Bike - 3.1 Mile Run
| | | |
| --- | --- | --- |
| | | Professional Race Timing and Scoring |
| | | |
| --- | --- | --- |
| | | Questions? |
For event-related questions, please click on the Contact the Organizers button on the left-hand side of this page.
---
When this page loaded, the official time was 5:06:26 PM EST.