41st Anniversary "Hit the Bricks" 5K Run/Walk
in United States at Zionsville Town Hall - 1100 West Oak Street

5K Race/Walk
Includes a high quality tri-blend shirt

Online registration is closed for this category.




---

3K Walk
Includes tri-blend shirt

Online registration is closed for this category.




---

5K and 3K Family Entry - 2 to 5 Members
$30 each for first 2 – then $20 per additional family member. Includes tri-blend shirt

Online registration is closed for this category.




---

Make a Donation to support the Zionsville Optimist Club and it's beneficiaries
Does not include event registration

Online registration is closed for this category.




---

Withdrawn

Online registration is closed for this category.




---
| | | |
| --- | --- | --- |
| | | Start/Finish Area |
The race start/finish is at Zionsville Town Hall. The route will be similar to previous years and will include running the rail trail and Zionsville's brick main street.
| | | |
| --- | --- | --- |
| | | About The Event |
The Zionsville Optimist Club is proud to announce our 41st annual "Hit-the-Bricks" 5K Run & Walk on Saturday, September 30. We've had 40 consecutive years with no rain!
This year's event features the usual 5K race/walk utilizing elements of Zionsville's Rail Trail and also looping through the historic downtown area before returning to the start/finish at the Town Hall. Additionally we will have an 3K walk (Not timed) for those that may want a more leisurely Saturday morning stroll through Zionsville.

We are excited to announce that we are highlighting the local charity 'Indiana United Methodist Children's Home' as part of our Hit the Bricks fundraising and will be contributing a large portion of funds to this worthy organization after the race. Zionsville Optimist Club has supported the home for several years and we plan to spotlight other local charities that support children in the Zionsville/Boone County area in future years.

Established in 1981, the Zionsville Optimist Club is a local chapter of Optimist International (optimist.org). Our motto is "Friend of Youth". Please help us fund important programs for youth in our community. The Zionsville Optimist Club is well known for their support of local youth and other local charities.

This event is our largest Optimist Club fundraiser for the year. Monies raised support multiple local organizations and programs including;

Graduating ZCHS Senior scholarships / Sponsorships of local youth sports / Optimist Club Oratorical Contest / 3rd Grade Zionsville History Program  / Funding for Textbook, Sports and Musical Instrument Assistance / Boone County Boys & Girls Club / 4-H /
The HAWK Foundation / Morning Dove Therapeutic Riding / So Big Mountain House Maternity Home / ZCHS After Prom Event / Holiday Gifts for Families in Need / Rehabilitation Hospital of Indiana / Sylvia's Child / Zionsville Food Pantry

About Indiana United Methodist Children's Home
Since 1915, the Indiana United Methodist Children's Home has provided the best opportunities for children and youth to thrive and achieve permanency in a stable and loving environment. Indiana's abused and neglected children, ages 14 to 19, receive residential 24/7 state-of-the-art treatment on our park-like campus in Lebanon. Services include safe and supervised housing, an on-site Indiana Department of Education accredited school, counseling and psychiatric services, medical and dental treatment, an aftercare program, an independent living curriculum, and spiritual development. Teens are placed in our care by the Indiana Department of Child Services, county courts, and the Indiana Department of Correction. Teens live on our campus in six newly constructed family-style homes for several months or years until they are independent, reunite with their families, or enter the foster care system. More than 5,000 abused and neglected children have found safety and love in our care.

Register today!
For more information on the Zionsville Optimist Club Click Here
| | | |
| --- | --- | --- |
| | | Participant Shirts |
Great looking shirts will be included with your registration through Wednesday, September 13th! Be sure to register by that day to guarantee your shirt!

Shirts/sizes may be limited starting September 14.

| | | |
| --- | --- | --- |
| | | Overall/Age-Group Awards & Raffle Prizes! |
Gift cards will be provided for overall mens and women's first, second and third place finishers.
There will be age-group awards for the top finisher in each age group of the 5k.

Age groups will be in 5-year increments starting at 15-19, 20-24..., and 70+.

Post Race Raffle
In addition to the normal overall and age-group award prizes, Hit the Bricks offers the "best post race raffle prizes in central indiana"! We've got gift cards, coupons, dinner options and much more from many of Zionsville's best restaurants and businesses. We've really pulled out all the stops for our 41st Anniversary race. (must be present at post race prize giving to win).
| | | |
| --- | --- | --- |
| | | Schedule |
6:30 AM: Race-day check in
8:05 AM: 5K Race/Walk
8:15 AM: 3K Walk (approx. time)
| | | |
| --- | --- | --- |
| | | Packet Pick Up and Late Registration |
Participants will have the option to pickup their materials (shirt & bib #) on Friday and Saturday.

We will also offer on-site registration both days, as well.

Friday, September 29
Runners Forum - Zionsville (4335 W 106th Street)
5:00pm - 7:00pm

Saturday, September 30
Zionsville Town Hall (1100 W. Oak Street). Enter through the main entrance of the Town Hall.
6:30am - 8:00am

Race-day registration for individuals is $40 for the 5K Run/Walk and the 3K.
For families, race-day registration is $80 for the first two people, then $20 for each additional person.
| | | |
| --- | --- | --- |
| | | Scenic Course |
The 5k course is fast with some rolling hills, and will have you running down Main Street in Zionsville (brick street - hence the name "Hit the Bricks"), through neighborhoods and along the Zionsville Rail Trail.

The 3K is untimed, and will also utilize the Zionsville Rail Trail and downtown Zionsville village area.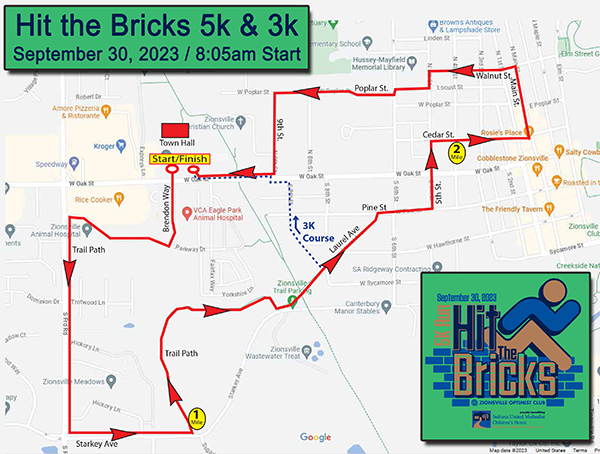 | | | |
| --- | --- | --- |
| | | Proceeds |
Zionsville Optimist Club is featuring Indiana United Methodist Childrens Home as a spotlight charity for this years event. Multiple other local organizations will also benefit from the race.
| | | |
| --- | --- | --- |
| | | Questions? |
For event-related questions, please click on the *Contact the Organizers* button on the left-hand side of this page.
---
When this page loaded, the official time was 6:38:39 AM EST.