DIA DE LOS MUERTOS / VIRTUAL 5K / 1 MILE RUN WALK
in United States at San Angelo Fine Arts Museum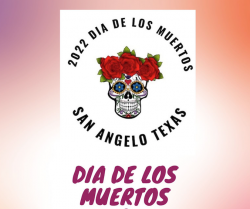 Virtual 5K
FIRST 100 REGISTERED PARTICIPANTS 5K / 1MILE GUARANTEED SHIRT

Online registration is closed for this category.




---

Virtual 1 Mile
FIRST 100 REGISTERED PARTICIPANTS FOR 5K / 1MILE -- GUARANTEED SHIRT

Online registration is closed for this category.




---

Withdrawn

Online registration is closed for this category.




---
| | | |
| --- | --- | --- |
| | | Event Details |
Dia De Los Muertos Virtual 5K/1MILE invites you to walk or run in remembrance of a passed loved one. It is through your health and wellbeing that you can honor the life and death of a friend or family member. Be sure to bring a photo in commemoration of these individuals to place on the altar at the race start/finish. Submit your favorite photo from the run/walk and we will share it on Facebook and the website.

Dates for event:
October 27th (Thursday) starting at 12:00 pm & ending on October 31st at 12:00pm.

Location:
San Angelo Fine Arts Museum
1 Love Street
San Angelo, TX

Anyone participating use caution at all times!

THIS IS NOT A COMPETITIVE RUN/WALK.
| | | |
| --- | --- | --- |
| | | Packet Pickup |
Date:
October 26TH, 2022 WEDNESDAY 11:00A.M. - 4:30P.M.

Location:
San Angelo Visitors Center
418 West Ave B
| | | |
| --- | --- | --- |
| | | Course Map & Directions |
Starting Location:
ANYONE PARTICIPATING & RESIDING OUTSIDE THE AREA, CAN RUN / WALK FROM ANY LOCATION!
MAKE SURE TO SEND US YOUR SELFIES TO POST ON FACEBOOK!

SAN ANGELO: START LOCATION IS ON THE WEST SIDE OF THE SAN ANGELO FINE ARTS MUSEUM & IS MARKED ACCORDINGLY FOR THE DISTANCES !
TRAIL IS MARKED WITH BANNERS INDICATING DIA DE LOS MUERTOS
SEND SELFIES / PICTURES OF YOUR RUN / WALK TO POST ON FACEBOOK: SAN ANGELO HISPANIC HERITAGE MUSEUM AND CULTURAL CENTER

Directions:
5K / 1Mile —Run / Walk from the museum, cross Celebration Bridge take a left & continue along the Concho River Trails cross Irving street and continue to the 1st wooden foot bridge (1 MILE TURNAROUND)back to finish line.

5K—(this is an out & back route) - continue over the foot bridge, proceed alongside the Visitors Center (take a Selfie), cross over 2nd foot bridge, take a left & continue along trails past Harris Street Bridge & proceed to 5K turnaround located by the low water crossing & return to finish line at SAFAM!

THANK YOU FOR PARTICIPATING IN OUR VIRTUAL EVENT!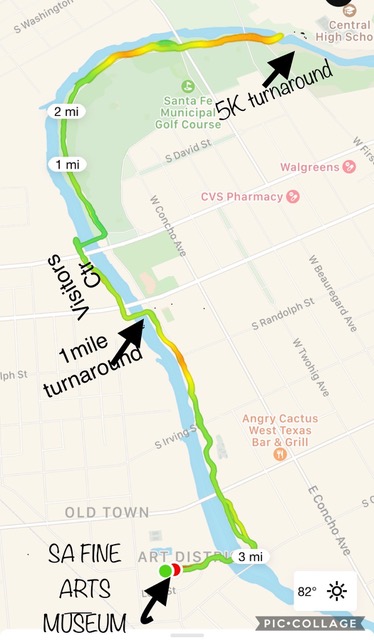 | | | |
| --- | --- | --- |
| | | Proceeds Support: |
All proceeds support the creation of the San Angelo Hispanic Heritage Museum and Cultural Center
| | | |
| --- | --- | --- |
| | | Questions |
For event-related questions, please click on the Contact the Organizers button on the left-hand side of this page.
---
When this page loaded, the official time was 7:02:47 PM EST.