Mt Angel Oktoberfest Roadrace
in United States at John F. Kennedy High School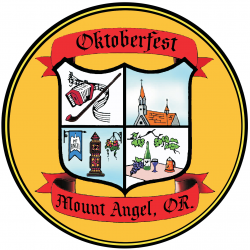 10K

Online registration is closed for this category.




---

5K

Online registration is closed for this category.




---

Comp Code Only
Must enter Comp Code on step 2

Online registration is closed for this category.




---

Volunteer
Volunteer check in will begin at 6:30 AM at the Kennedy HS track

Online registration is closed for this category.




---

Withdrawn

Online registration is closed for this category.




---
| | | |
| --- | --- | --- |
| | | New course with something for everyone! |
Online registration ends on Saturday, Sept. 17 at 6:00 PM.
Race day registration is check or cash only.

The Oktoberfest races are back and with something for every type of runner. Track runner? The start and finish is on the Kennedy High School track. Road runner? The course meanders through the hamlet of Mt. Angel. Trail runner? Parts of the course are on gravel or packed dirt and through a farm/nursery. Like it flat? It mostly is. Like hills? We have a couple. Like a good party after? Mt. Angel Oktoberfest! Every participant over the age of 21 will receive a glass and complimentary ticket for a beer at Oktoberfest.
See, we got you all covered! See you there.

Packet pick-up is Sunday (day of race) at JFK High School, starting at 7:00 AM. Day of registration will be from 7:00am to 8:30am. Day of registration will be cash or check only.

Please note: T-shirt availability is limited. If you find a size unavailable when ordering, that size has been sold out.

Wait, not running? We love volunteers! Register to be one and get a complimentary Sunday pass/wristband to Oktoberfest, a pint glass and complimentary beer ticket (if 21 or older, under 21 will get the glass).
We can't wait to see you at the races!
| | | |
| --- | --- | --- |
| | | Course Maps |
| | | |
| --- | --- | --- |
| | | Volunteer Descriptions |
Timing help: Assists timing company with needs at the finish line. (2)

Finish line: Keeps runners moving through finish chute. (4)

Check in: Assists with handing out bib numbers, t-shirts, glasses, etc. Also assists with any day of registration. (6)

Finish are food: Arranges and stocks food for when athletes have finished their races. (3)

Water stations (2 stations): Fill cups with water, hand to runners, clean up cups, cheer the runners. (8 total, 4 per station)

Course monitors: Most of these are at corers where runners turn. Volunteer will point direction, monitor auto activity to keep runners safe, cheer the runners. (40)

Bike lead and sag: Lead bikes will lead the 5k and 10k leaders. Sag bike will follow the last runner. (3, 2 lead bikes, 1 sag)

Course set up: This will be day before and morning of the races. Will assist in setting out signage, setting up checking and food areas, taking tables, water, cups and garage bin to water stations. Requires lifting and having a vehicle to carry items is useful. (5)

Course tear down: Assist with removing signage, retrieving items at water stations, breaking out check in and food areas. Requires lifting and having a vehicle to carry items is useful. (5)
| | | |
| --- | --- | --- |
| | | Questions? |
For event-related questions, please click on the Contact the Organizers button on the left-hand side of this page.
---
When this page loaded, the official time was 5:14:45 AM EDT.