MDP Healthier You Walk
in United States at Discovery Park | 3300 Cedar Street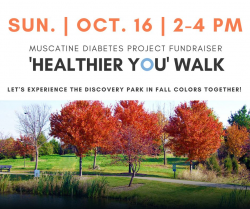 1.5 Mile Walk

Online registration is closed for this category.




---

Donate Only - not an entry

Online registration is closed for this category.




---
| | | |
| --- | --- | --- |
| | | Schedule of Events |
New Event Date: October 16, 2022
Start: 2:00 PM

2:00 PM - Registration Opens
3:00 PM - Program
3:30 PM - Walk Starts
| | | |
| --- | --- | --- |
| | | Walk Event Details |
The 1.5 mile walk route takes us throughout the Discovery Park which will allow us all to enjoy the beautiful fall colors. (Dogs are welcome as long as they stay on their owners leash.)

Adults 18 years+ = $10.00

Youth 17 years & under = Non-perishable food donation which will go to the MCSA Food Pantry.

Needed items:
Low sodium canned vegetables
Low sodium soup
Lite syrup canned fruit
No sugar apple sauce
Single packages of peanut butter
| | | |
| --- | --- | --- |
| | | MDP Mission |
Our purpose is to ensure that all people impacted by diabetes are empowered by knowledge, encouraged by action and supported by community! There's joy in the journey as we walk alongside each other.

The Muscatine Diabetes Project is a 501(c)(3) volunteer charitable non-profit organization founded in 2016, and its mission is to provide adult and youth diabetes education programs, outreach activities, support groups, along with helping fill the gap between the patient and their health care provider.

ADULT OUTREACH:
- 'Make Your Mark on Diabetes' - Prediabetes Awareness Campaign
- Do You Know Your Number? - A1c hemoglobin blood test (free or fee based)
- Adult Diabetes Support Group (Type 1, Type 2 & Prediabetes diagnosis)
- Adult Support Group Book Club
- Diabetes Supply Locker
- MDP 'Healthier You' Walk
- Iowa Healthiest State Annual Walk (1st Wednesday in October)
- November Diabetes Awareness Month & World Diabetes Day (November 14)

ADULT 'HEALTHIER YOU' LIFESTYLE CHANGE PROGRAM:
Taking that first step to a healthier lifestyle is not one giant step that does it, as it's a lot of little steps that will provide you with knowledge to help you increase your physical activity and empower eating changes.

EMPOWERING HEALTHY BEHAVIORS IN OUR YOUTH:
- MDP Diabetes Busters Program - 3rd Graders
- Live 5-2-1-0 Healthy Choices Count! Program
- Walking Buddy Program

Our long-term health investment vision continues to focus on reducing obesity rates and the prevalence of Type 2 diabetes diagnoses in youth by empowering them to live healthier lives. We also want to motivate our youth living with Type 1 diabetes too! We want all of them to be empowered by knowledge, encouraged by action and supported by community.

TYPE 1 & TYPE 2 YOUTH DIABETES OUTREACH:
- Diabetes Emergency School Kits in the Muscatine County School area
- Diabetes Supply Locker
- Diabetes Management at School Training
- Iowa Youth Diabetes Camp Scholarship
- T1D Moms Group ConnecT1D Families Facebook Support Group

100% of the fundraising stays in Muscatine County unless otherwise noted.
| | | |
| --- | --- | --- |
| | | Questions? |
For event-related questions, please click on the Contact the Organizers button on the left-hand side of this page.
---
When this page loaded, the official time was 4:26:06 AM EST.