Rooting For Rainey 5K & Rainey's Spooky Family 1K Fun Run/Walk - 2nd Annual
in United States at Grand Saline Elementary School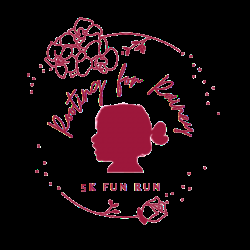 5K Run/Walk
Timed with chip/awards given.

Online registration is closed for this category.




---

Rainey's Spooky Family 1K Fun Run/Walk
No timing chip used/costumes encouraged, for those opting for a shorter run/walk.

Online registration is closed for this category.




---

Donation Only
All proceeds benefit Dr. Comi's Sturge-Weber Research Program at the Kennedy Krieger Institute.

Online registration is closed for this category.




---

Withdrawn

Online registration is closed for this category.




---
| | | |
| --- | --- | --- |
| | | Proceeds Benefit |
Join us for the Rooting for Rainey 5K Fun Run/Walk. All proceeds will benefit Dr. Comi's Sturge-Weber Research Program at the Kennedy Krieger Institute
| | | |
| --- | --- | --- |
| | | About Our Rainey |
For those not familiar with our story, our daughter, Rainey LaPrade, was born with a Port Wine Stain birthmark over the left side of her face. We were told there was a chance of her having Sturge Weber Syndrome but that only 1 in 3,000 born with the port wine stain have the syndrome. We were encouraged to get an MRI. Rainey had an MRI at 9 days old and everything looked normal. Everything we read about Sturge Weber Syndrome said 90% of kids would present with symptoms by age 2. Our sweet Rainey Claire presented with a 25 minute seizure at 4 months old in September of 2019. She also had a venous stroke during the episode and spent 5 nights at Children's Hospital in Dallas. We are proud to say medicine has controlled her seizures since October 4, 2019. She has been in physical, occupational, and speech therapy multiple times a week since her episode and has made huge strides.

She also has glaucoma (part of Sturge Weber Syndrome) in her left eye and has had one surgery to control her eye pressure. Due to the rarity of this syndrome, limited funds have been raised for research. Our goal is to have an annual fundraiser to support Sturge Weber Research. All proceeds from the Rooting For Rainey 5k Fun Run/Walk will go to Dr. Comi's Sturge-Weber Research Program at the Kennedy Krieger Institute to further support research and development.

Help us with our goal of 400 attendees! You can register through here or by mailing a form/check to:
Ricky LaPrade at 423 VZCR 1228 Canton, Tx 75103.

We will have a donation based brisket lunch beginning at 11:00 AM.

**If you are unable to attend the event but would like to contribute to this fundraiser for research you can mail a check to the above address.
| | | |
| --- | --- | --- |
| | | Race Day Schedule |
Saturday, October 29, 2022:
9:00 a.m. (OnSite Registration)
9:45 am (Opening Ceremony)
10:00 a.m. (5K)
10:15 a.m. (Rainey's Spooky Family 1K Fun Run/Walk)
11:00 a.m. (Donation Brisket Lunch & Award Ceremony)

Registration Information:
Registration Cost: $30 if registered by September 30th - $35 after.
| | | |
| --- | --- | --- |
| | | Awards & Age Groups |
| | | |
| --- | --- | --- |
| | | T-Shirts |
Register by October 8th and receive a guaranteed T-Shirt

Register after October 8th and T-Shirts are on a first-come, first-serve basis and may not be available in all sizes or at all.

REGISTER EARLY!!!!
| | | |
| --- | --- | --- |
| | | Questions? |
For event-related questions, please click on the Contact the Organizers button on the left-hand side of this page.
---
When this page loaded, the official time was 8:09:53 AM EDT.