Red Gold Run to Crush Hunger - 10th Annual
in United States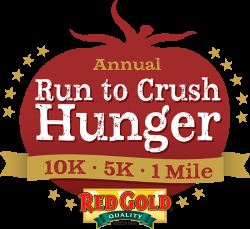 10K - Individual Entry

Online registration is closed for this category.




---

10K - Group Rate (4 or more participants, or join an existing team)
Group Rates will not be available at early packet pick-up or morning of the event

Online registration is closed for this category.




---

5K - Individual Entry

Online registration is closed for this category.




---

5K - Group Rate (4 or more participants, or join an existing team)
Group Rates will not be available at early packet pick-up or morning of the event

Online registration is closed for this category.




---

1 Mile Course
Register up to 6 people for the mile in one transaction.

Online registration is closed for this category.




---

Virtual Race: Packet Pickup
Includes Race Shirt, Custom Medal, Race Bib and Event Gear

Online registration is closed for this category.




---

Virtual Race: Ship My Gear
Includes Race Shirt, Custom Medal, Race Bib, Event Gear and U.S. Shipping

Online registration is closed for this category.




---

Make a Donation
Does not include event entry

Online registration is closed for this category.




---

Virtual 1 Mile Course
Register up to 6 people for the mile in one transaction.

Online registration is closed for this category.




---

Virtual 5K

Online registration is closed for this category.




---

Virtual 10K

Online registration is closed for this category.




---

Withdrawn

Online registration is closed for this category.




---
| | | |
| --- | --- | --- |
| | | Shirts |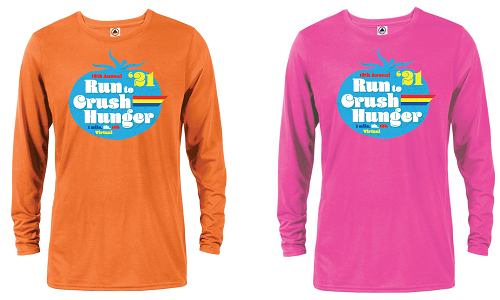 | | | |
| --- | --- | --- |
| | | Location and Time |
The 2021 Run to Crush Hunger is solely a Virtual Race! Sign-up virtually for the Run to Crush Hunger where you can run or walk any distance, anywhere and anytime!

Visit: www.CrushHungerSaturday.com for more information!


WHO CAN PARTICIPATE VIRTUALLY?
You, your family, your friends - EVERYONE!

WHAT COMES WITH THE VIRTUAL REGISTRATION?
- The Crush Hunger custom medal
- The Crush Hunger race bib
- The Crush Hunger event shirt

WHEN DO I RUN?
- Anytime you want!
- Post your race day photo and results on Facebook and tag: @RedGoldRuntoCrushHunger #HelpCrushHunger

WHERE DO I RUN?
Run anywhere, outside or inside on the treadmill

WHY VIRTUAL?
To keep everyone safe and align with social distancing guidelines

HOW MUCH DOES IT COST?
2 OPTIONS!
- 'Packet Pick-Up' Entries - $30
- 'Ship My Gear' Entries - $40

HOW DO I RECEIVE MY RACE GEAR?
2 OPTIONS!
- We will ship your race packet + gear to you!
- You can pick-up your race packet + gear at packet pick-up!
- The Packet Pick-Up will be held on Friday, October 22nd 2021 from 11am-5pm @ St. Joseph Center - 1306 S A St. Elwood, IN 46036
| | | |
| --- | --- | --- |
| | | About the Event |
What a crazy couple of years 2020 & 2021 have been! We cannot predict what is yet to come, but we can only hope for a healthy America, while continuing to promote great causes.

Due to the recent rise in COVID-19 infection rates, we are going virtual for the 2021 Run to Crush Hunger. Like many of you, we are eager to see our friends and enjoy social events again. However, under these current circumstances we face, we know that we shoulder great responsibility as the host of these events. And it's with that responsibility in mind, we are making the decision to go virtual.

This is not the first challenge we've overcome together, and we know there will be more obstacles down the road. We thank you all for your patience and understanding as we navigate these challenging times together. That being said, we have taken precautions with the Run to Crush Hunger to make it even more meaningful, while also following our state guidelines.

 ...Now Crushing Hunger all across America VIRTUALLY!
With much discussion and careful consideration, the race team at Red Gold has chosen to make the 2021 Run to Crush Hunger a nation-wide virtual race! Sign-up virtually for the Run to Crush Hunger where you can run or walk any distance, anywhere and anytime!

By participating virtually, we can continue to support our communities especially as they need us now more than ever. As a virtual participant, you'll be providing roughly 120 meals to feed local families in need!
| | | |
| --- | --- | --- |
| | | Results |
HOW DO I SUBMIT MY RESULTS?
Link: - getmeregistered.com/RedGoldRun2021

What you'll need:
- Transaction number, located on the back of your race bib
- Last name
- Your time

When can I submit my results?
- Any time after you receive your race packet through December 31, 2021
| | | |
| --- | --- | --- |
| | | Questions? |
For event-related questions, please click on the Contact the Organizers button on the left-hand side of this page.
---
When this page loaded, the official time was 6:47:05 AM EST.