The Michael Treinen Foundation Turkey Trot
13th Annual
in United States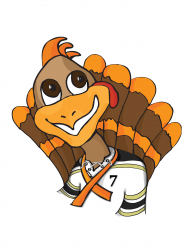 Virtual Run (5K or 3K)
Registration with a t-shirt must be completed by November 15th

Online registration is closed for this category.




---

Bundle Discount Registration
Registration with a t-shirt must be
completed by November 15th

Online registration is closed for this category.




---

Withdrawn

Online registration is closed for this category.




---
| | | |
| --- | --- | --- |
| | | The Michael Treinen Foundation Turkey Trot 2020 |
The question is….are we still having the Turkey Trot this year??? The answer- YES!!! It is important for our foundation to carry-out the mission and vision of Michael- helping others with cancer- kids, adults, and their families. Not even COVID-19 can get in the way!

The BEST part of Thanksgiving, is for the Michael Treinen Foundation Board to spend their morning hosting 2000+ runners and walkers on the square in Noblesville. We love starting our day with YOU! This year- due to COVID-19, the Turkey Trot will look a little different due to social distancing constraints and keeping our participants safe and healthy. (Michael thrived on being different…so lets' do this is in his honor!)

The 2020 Turkey Trot will be virtual this year. We will be live on Facebook throughout the morning, giving shout outs to participants across the US. We will be recognizing runners/walkers for a variety of challenges. Fun prizes will be mailed to all that participate! Here are a few just to get you thinking:

Best Costume
Largest Family Group running together
Most scenic running/walking route
Longest run
Most vertical feet
Best Turkey Call

T-shirts will be included with your registration. We will be having a drive-by pick up for t-shirts for those of you that live in the area.. (More information to be sent out.) If you are not local or live out of state, we will ship your t-shirt to you for a small fee to reduce the impact on our fundraising.

We will miss you, but can't wait for the pictures, videos, and interactions through social media.

Follow us on Twitter @MTF_Fight and on Instagram @mtf_fight.
We ask that you tag all of your pictures with the hashtag #MTFTurkeyTrot20

While our event may look different, our fun and festive Turkey Trot will still be filled cheers, smiles, and an opportunity to get in a little exercise before or after your Thanksgiving meal!
| | | |
| --- | --- | --- |
| | | Questions? |
For event-related questions, please click on the Contact the Organizers button on the left-hand side of this page.
---
When this page loaded, the official time was 10:58:46 AM EDT.