18th Annual Beat the Heat 5K
in United States at The Rotary Miracle Sports Complex of Murrysville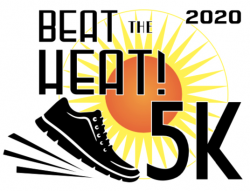 5K

Online registration is closed for this category.




---

Donation Only
This is NOT an event entry

Online registration is closed for this category.




---

Withdrawn

Online registration is closed for this category.




---
| | | |
| --- | --- | --- |
| | | Event Info |
Franklin Regional Soccer Boosters is proud to announce the 2020 18th Annual Beat the Heat 5K.. Due to the concern and restrictions created by the Covid 19 pandemic the event will be limited to the first 230 on-line registrants.

Given the fact that this race typically attracts over 220 participants and the fact there are very few races on the regional schedule, itís anticipated we will reach capacity in a very short period of time. Donít delay, register today.

On-line registration will open at 12:01 am on Saturday, July 25, 2020
Entries will close at 11:59 pm on Wednesday, August 12th unless the limit has been reached.

No day of race entry.
No mail-in entries accepted.

For everyones safety only the competitor and a limited number of volunteers will be allowed to enter the Rotary Miracle Field complex area. If you did not receive a wristband from us then you are not approved to enter. No spectators in this area.

Spectators may watch the race along the race course. We ask that you maintain social distance, wear your mask and don't leave any litter along the course.

Race proceeds will benefit the girls and boys Franklin Regional High School and Middle School Soccer programs. A portion of the proceeds will be donated to the Murrysville Miracle Field of Western PA.

The Franklin Regional Soccer program as a whole is as strong as it has even beenÖRand Hudson and our HS boyís program is preparing to compete for its third consecutive WPIAL Championship!! The girlís HS program begins the 2020 season under the direction of our new Head Coach, Scott Arnold!! It goes without saying that the excitement among our student athletes is at a feverish pitch. They are all chomping at the bit to getting back on the field to begin putting in the hard work that is necessary to be a successful program! The coaching staffs are equally excited to begin their work on shaping the lives of the student athletes.

Thank you in advance for supporting our Soccer program and the Murrysville Miracle Field of Western PA.

Event Details are available on the registration platform.
| | | |
| --- | --- | --- |
| | | Parking |
There is plenty of parking in the Murrysville Community Park. We will have people there to guide you. Please plan to arrive at the recommended time we give you in your registration packet and no later than 7:30 am. Late arrivals may not be able to get through to park. Wiestertown Road will close prior to the start of the race.
| | | |
| --- | --- | --- |
| | | Awards |
Awards will be presented to the following:
*Top 3 male and top 3 female finishers
*Top Masters male and female finishers

No age group awards due to difficulty in enforcing social distancing at a ceremony.

Event open to walkers and runners.
| | | |
| --- | --- | --- |
| | | Become a Sponsor |
Companies of all sizes can participate at various tiers to help us achieve our fundraising goal. For more information, please email elorenz777@aol.com. Sincere thanks to all of our past, present and future sponsors!
| | | |
| --- | --- | --- |
| | | Covid 19 Precautions |
Due to Covid 19 the event will be adhering to the following:
Limit a maximum of 250 competitors and volunteers in attendance. All are to enter up above the Miracle field. Where all must arrive with a mask on and will be screened prior to entry. Temperature will be taken and each person will be asked the following yes/no questions. If anyone says yes to any questions below or a temperature over 100.4 then he or she will not be permitted to stay. Only those who have been screened and cleared will be allowed at the start/finish area. Each person cleared to enter will receive a wrist band to wear during the event.

Fever?

Persistent Dry Cough?

Shortness of Breath or difficulty breathing?

Close contact or cared for someone with Covid 19?

MASKS
Your entry fee includes a custom printed reusable gaitor as a unique souvenir.
This mask will be in with your bib packet for pickup on August 21st at Franklin Regional High School..
Masks must be worn prior to the start of the race and after crossing the finish line.
Masks may be removed while running, eating and/or drinking
Do not discard masks on the course.

If you have a medical condition that prohibits yourself from wearing a mask then please let a race administrator staff person know in advance. Anyone who does not follow our race Covid rules, then may be asked to leave the race.

HYDRATION
Bring your own pre-race hydration
No water stations on the course (Covid Precautions)
Water bottles will be provided at the finish.

ARRIVAL TIME
To prevent all from arriving at one time, we will give you a recommended arrival time in your registration packet.

STARTING LINE PROCEDURES
We may implement a staggered start, either 5 waves of 50 runners or a rolling start of 4-5 runners every 5 seconds in starting chutes. Your pre-race instructions (included with bib number and mask) will describe the finalized starting line procedures. You will be asked for a 5K time. If you have ran Beat the Heat in past you can obtain your time from www.runhigh.com website. Numbers will be assigned with the faster runners starting first to help with social distancing on the course. Although your final time will be a net chip time, we encourage you to line up near runners who have race numbers near yours.

FINISH LINE PROCEDURES
There is plenty of room after the finish line. We encourage runners to move themselves along past the finish and maintain social distancing. This year your timing chip is in your bib and not returnable. In past the timing chip was put on the shoe and then it had to be cut them off at the finish. Bottled water will be available. Please feel free to walk around and keep your distance from others while you cool down.
| | | |
| --- | --- | --- |
| | | Directions to Event |
18th Annual Beat the Heat 5k Run/Walk
August 22, 2020

Directions From Route 22 in Murrysville:
In Murrysville turn at the Rite Aid onto Cline Hollow Road, follow to T in the road and make a left onto Hills Church Road. Stay straight onto Wiestertown Rd. Make a left into Murrysville Community Park. (Distance from T to turn at park is about 1.8 mile) Follow through the park and make a right onto Ron Coy Way, which is the entrance into the Rotary Miracle Sports Complex.

Wiestertown Road will close to runners so please arrive early or you will not be allowed to enter.
| | | |
| --- | --- | --- |
| | | Race Day Registration |
No Race Day Registration
All entries must be made on-line before midnight August 12th unless field limit has been reached.
| | | |
| --- | --- | --- |
| | | Bib Number and Timing Chip Pick Up the Day Before the Race |
REGISTRATION PACKET PICKUP
Entry fee includes bib number, timing chip, souvenir safety gaitor and t-shirt.

Your bib number, safety pins, souvenir safety gaitor and t-shirt will be available for pickup the day before race day, on Friday, August 21st. The time will be 6 pm to 8 pm at Franklin Regional High School's back entrance where there is a roof overhang we can stay dry if it is raining. To get to us please drive up the main entrance and come around to the back so the school is on your right. Please stay in line in your car. We will hand you your registration packet as each person pulls up in front of us.

Timing chip will be attached to the back of the bib.

Bibs and chips do not need to be returned.

No need to check in when you arrive at the race, unless you were unable to pick up your registration packet up the day before.

PARK, GET IN LINE TO BE SCREENED, WARM-UP, PUT YOUR NUMBER ON, ADHERE TO SOCIAL DISTANCING RULES (6í) and RUN/Walk your event (starting at 8 am)
| | | |
| --- | --- | --- |
| | | Questions? |
| | | |
| --- | --- | --- |
| | | Timing and Scoring |
Timing and Scoring by Runner's High
RaceResult Timing Technology
Timing Chip is attached to the back of the race bib. (Do not remove or damage.)
Wear race number on the front. Must be visible at all times.

No printed results posted to prevent close gathering.
Results will be posted online at www.runhigh.com.
| | | |
| --- | --- | --- |
| | | Disclaimers |
We aim to provide an enjoyable, healthy and safe event. However, when dealing with people, it can be challenging. Anyone registering for and attending this event must realize that he or she must be held accountable for his or her actions and reactions. We must be responsible and abide by restrictions set by our staff, community and government.

If you feel that the health risk of attending this race is greater than the anticipated benefit, we request that you do not register for this event. If state mandated guidelines change before race day to the extent that the event must be cancelled, your entry fee will not be refunded. We have significant expenses coming into the event, and runners must realize that it is a risk that they must take when registering. The entry limit is expected to fill in a relatively short period of time, so donít gamble too long in delaying to register.

This is the 18th year for this event, and the last thing we want to do is cancel it. We will do anything in our power to hold it. Please be cognizant that some things just may be out of our control.
---
When this page loaded, the official time was 2:23:33 AM EDT.