IMT Des Moines Marathon Virtual Event
Friday, October 16, 2020
in Des Moines, IA at Des Moines, USA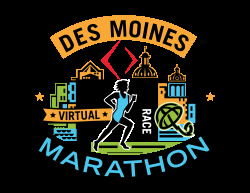 | | | |
| --- | --- | --- |
| | | IMT Des Moines Marathon Virtual Event |
Be a part of the IMT Des Moines Marathon race experience, without actually racing in-person.

The IMT Des Moines Marathon Virtual event offers a safe and healthy way for you to participate in the IMT Des Moines Marathon excitement, get outside, and run or walk your course, from your home... or anywhere in the world!

Athletes participating in the IMT Des Moines Marathon Virtual Event receive IMT Des Moines Marathon race amenities, such as an athlete bib, SWAG, race results, cheer messages, and selfie photo overlays, and even a finisher medal and certificate. Some items are available for download during the virtual event, other items will be offered online, and items like SWAG and finisher medals will be mailed directly to the athlete following the completion of the virtual event.

Be sure to download the IMT DMM app to stay connected during your training and to utilize all of the innovative features and tools offered through the app during your virtual run, including cheer messages from MOTIGO. (see below).
| | | |
| --- | --- | --- |
| | | Register and Compete |
In order to participate in the Des Moines Marathon Virtual Event you need to take the following steps:

First, register for the IMT Des Moines Marathon Virtual Event race distance that you would like to participate in. Registration in all race distances closes Sunday, October 4 at 11:59 pm.

Next, download the IMT Des Moines Marathon app, if you haven't already.

The IMT DMM app and IMT DMM Virtual Event experience is available for free download now through the iTunes and Google Play stores.

Prepare to complete your specific race distance at a date and time that works best for you beginning Friday, October 16 through Saturday, October 31, 2020.

Then, on the day that works best for your schedule, within the established two week period, start your run or walk, and be sure to take the IMT DMM app with you. Once you complete/surpass the necessary mileage distance for your selected race distance, your results will automatically be uploaded to the IMT DMM app and ready for submission to onlineraceresults.com for viewing, scoring, and further race results features.
| | | |
| --- | --- | --- |
| | | Transfer From In-person to Virtual Event |
Already registered for one of the in-person IMT Des Moines Marathon races and can't participate due to unforeseen circumstances?

You can transfer your existing, paid event registration to the IMT DMM Virtual Event rather than waiting for a deferral option to the 2021 event should the event be canceled. You will need your unique transaction ID from your original in-person registration to transfer to the Virtual Event at no cost.

You will be placed in the same virtual event race distance category as your in-person race registration. Otherwise, a small processing fee will apply to make any updates to your currently assigned race distance.

The ability to transfer your existing, in-person, paid event registration to the virtual event closes Sunday, October 4 at 11:59 pm.

Athletes transferring from in-person to virtual event will still receive athlete loyalty Heel to Toe Club credit for participating in the IMT Des Moines Marathon this year.
| | | |
| --- | --- | --- |
| | | Create Your Course |
The IMT Des Moines Marathon Virtual Event offers you the ability to participate in your race distance from virtually anywhere in the world. Complete the race distance in a continuous, single run. Just as you would in-person on race day.

Thanks to MYLAPS and The End Result the IMT DMM app can combine real-life timing data with virtual GPS based timing data. This provides you and other virtual event athletes the opportunity to race each other on the official course or your imaginative course map.

There is no 'course time limit' in the virtual event. Create a self-designed course or run the existing route that you have already been training on. You can even run or walk the actual IMT Des Moines Marathon racecourse of your choice.

The IMT Des Moines Marathon encourages all virtual event participants to follow proper runner safety and etiquette while considering to select a route that incorporates trails, bike lanes, or roads that do not attract heavy vehicle traffic. Consult the IMT DMM app and website for course maps.
| | | |
| --- | --- | --- |
| | | IMT DMM app Times Your Race |
One of the great features of the IMT Des Moines Marathon Virtual Event is that it similarly LiveTracking that is in place through the existing IMT DMM app.

LiveTracking on race day incorporates the official IMT Des Moines Marathon racecourse map with GPS and MYLAPS timing mats on the racecourse. With our virtual race, this modified feature within the IMT DMM app utilizes GPS functionality to track your distance while you are on your virtual run. The IMT DMM will auto-finish based on the race distance you are participating in, and submit your results when your virtual race is completed.
| | | |
| --- | --- | --- |
| | | IMT DMM app Uploads Your Results |
No need to post your results to a website or via text, take a photo of your GPS device, or send an email with your finish time when you are finished with your run. The IMT DMM app does it all for you in real-time.

Your IMT Des Moines Marathon Virtual Event results are also uploaded periodically throughout the two-week window of athlete participation from October 16 through 31 to onlineraceresults.com. View your finish time, pace, and race statistics, along with an official finisher certificate for download, social shares, and more!

Overall placement, prize money, and age division awards are not offered in the IMT Des Moines Marathon Virtual Event race series. However, your participation will count towards the Heel to Toe Club, the official IMT Des Moines Marathon loyalty rewards program.

Results (finish times) in the virtual event, will not count towards Boston Marathon qualification times.
| | | |
| --- | --- | --- |
| | | IMT DMM app Takes Your Photo |
The IMT Des Moines Marathon Virtual Event experience allows you to do more than upload a selfie to your favorite social page. Thanks to our partners at MarathonFoto, you can take your photo through the IMT DMM app and overlay against an official IMT Des Moines Marathon backdrop.

When uploading your virtual event photos to your favorite social media channels, use the hashtag; #imtdmm
| | | |
| --- | --- | --- |
| | | Motigo offers Cheer Messages |
The IMT Des Moines Marathon Virtual Event offers athletes the ability to listen to cheer messages during their run thanks to our partners at Motigo.

Imagine hearing cheers from friends, family, even those who are thousands of miles away.

Personalize your IMT Des Moines Marathon Virtual Event race day experience using your favorite music/apps - just add the free Motigo for a truly unique run and magical virtual event experience. Take your mind off the miles with an audio tour during the event with periodic pre-recorded messages highlighting our sponsors and some added motivation directly from the race director!

On the day of your virtual run, hear inspiring personalized audio messages from your friends and family – wherever they are. Plus record your mantras and reminders (fuel, hydrate, pace yourself) to make the day yours!

Instructions for athletes:
• Download the IMT Des Moines Marathon app and then, download the Motigo app. (Currently available for iOS and Android)
• Sign up for a free account
a. Allow Motigo to "access your location" - it needs to be able to do that so the messages play at the proper mileage points
• Choose "Race." On the next screen, pick "Select Event", then choose your "Distance"
• Share Event with your personal link: Invite your friends and family to pre-record cheers that will play during your race. They can download the Motigo App OR go to our website www.getmotigo.com and "Record Cheers" via the web!

On the day of your IMT Des Moines Marathon Virtual Event run:
• Before your run, open Motigo then click "Start Event" and you're good to go (make sure cellular and GPS is enabled for Motigo).
• Turn on any other music or other fitness apps you typically use, such as the iHeart Radio running playlist that is already included in the IMT DMM app. Motigo won't interfere with them.
• Start moving! The messages will come on periodically, and your other audio that's playing will automatically lower in volume.
• When you're done, press "Finish Event." All your messages will be archived in "My Past Events" where you will have them to listen to again.

Other questions? Motigo has a super helpful "How It Works" videos and FAQ page at www.getmotigo.com/faq.
| | | |
| --- | --- | --- |
| | | Is to Keep You Safe |
RRCA General Running Safety Tips

DON'T WEAR HEADPHONES. Use your ears to be aware of your surroundings. Your ears may help you avoid dangers your eyes may miss during the evening or early morning runs.

Run against traffic so you can observe approaching automobiles. By facing on-coming traffic, you may be able to react quicker than if it is behind you.

Look both ways before crossing. Be sure the driver of a car acknowledges your right-of-way before crossing in front of a vehicle. Obey traffic signals.

Carry identification or write your name, phone number, and blood type on the inside sole of your running shoe. Include any medical information.

Always stay alert and aware of what's going on around you. The more aware you are, the less vulnerable you are.

Carry a cell phone or change for a phone call. Know the locations of public phones along your regular route.

Trust your intuition about a person or an area. React on your intuition and avoid a person or situation if you're unsure. If something tells you a situation is not "right", it isn't.

Alter or vary your running route pattern; run in familiar areas if possible. In unfamiliar areas, such as while traveling, contact a local RRCA club or running store. Know where open businesses or stores are located in case of an emergency.

Run with a partner (social distance). Run with a dog.

Write down or leave word of the direction of your run. Tell friends and family about your favorite running routes.

Avoid unpopulated areas, deserted streets, and overgrown trails. Avoid unlit areas, especially at night. Run clear of parked cars or bushes.

Ignore verbal harassment and do not verbally harass others. Use discretion in acknowledging strangers. Look directly at others and be observant, but keep your distance and keep moving.

Wear reflective material if you must run before dawn or after dark. Avoid running on the street when it is dark.

Practice memorizing license tags or identifying characteristics of strangers.

Carry a noisemaker. Get training in self-defense.

When using multi-use trails, follow the rules of the road. If you alter your direction, look over your should before crossing the trail to avoid a potential collision with an oncoming cyclist or passing runner.

CALL POLICE IMMEDIATELY if something happens to you or someone else, or you notice anyone out of the ordinary. It is important to report incidents immediately
| | | |
| --- | --- | --- |
| | | Questions? |
For IMT Des Moines Marathon Virtual Event-related questions, please click on the *Contact the Organizers* button on the left-hand side of this page.
---
When this page loaded, the official time was 4:17:12 AM EDT.