Run On The River - 2021
in United States at 8th Street Platform by Buoy Beer Company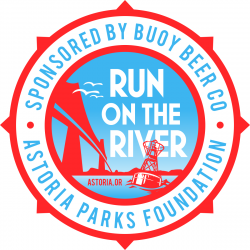 Half Marathon
Due to Covid-19 this event may be virtual or have staggered starts to ensure participant safety.

Online registration is closed for this category.




---

10K
Due to Covid-19 this event may be virtual or have staggered starts to ensure participant safety.

Online registration is closed for this category.




---

5K
Due to Covid-19 this event may be virtual or have staggered starts to ensure participant safety.

Online registration is closed for this category.




---

DONATE

Online registration is closed for this category.




---
| | | |
| --- | --- | --- |
| | | Run on the River has been Cancelled |
Hello ROTR Friends, Family, Volunteers and Supporters!

We hear you. You are ready to run and ready to run an in-person event. You can't wait to get to Astoria to enjoy the Riverwalk, Buoy Beer Co and the Columbia River. WE WANT THAT TOO!

The Virtual race last year was a surprise success and brought us great joy!

But, WE MISS YOU!

Our delight is seeing our runners and volunteers gather in the morning; feeling that energy that comes with the expectation and the completion of the race; and sharing a Buoy beverage and lunch with you and your family and friends. That is what we look forward to. That is why we do it.

And of course, to raise funds for scholarships for Astoria's wellness programs.

So, with that and because your health and wellness is extremely important to us, the ROTR team has made the very difficult decision to cancel this year's Run on the River.

We thank each of you for your dedication to our run and our cause. We thank Buoy Beer Co. for their generous support! And we look forward to seeing everyone again in person in 2022.

We have already been in touch with those of you who are registered and we'll be opening the 2022 registration later this year. We'll be sending out a link once that is open.

We can't wait to see you next year!

Run on the River is a yearly fundraiser hosted by the Astoria Parks, Recreation and Community Foundation, sponsored by Buoy Beer Company and supported by local businesses. APRCF is a 501(c)3 committed to providing local individuals and families access to recreation and wellness opportunities.
| | | |
| --- | --- | --- |
| | | Check out your highlights from last year! |
| | | |
| --- | --- | --- |
| | | Run on the River Details |
The VIRTUAL Run on the River Half Marathon, 10k, and 5k is sponsored by Buoy Beer Company and our local sponsors.

All proceeds go to fund Astoria Parks and Recreation scholarships so that children and families in the area can access health and wellness opportunities through Parks and Recreation.

Check this site for updates.

Thank you for being a part of our amazing community of runners and volunteers and most of all for helping us raise funds in our community. We can not do this without you.
| | | |
| --- | --- | --- |
| | | Virtual Kids Run |
The Kids Fun Run is FREE and you can buy the kids multi-color tie-dye shirts at registration. We'll email a Kids Run bib to be printed out at home for our youngest participants.
| | | |
| --- | --- | --- |
| | | Contest |
After all the packets go out we'll be raffling two Buoy Beer Co. Swag Prizes to participants who post results and photos of their run and swag.
@runontheriver @buoybeer #runontheriver and #virtualrun
| | | |
| --- | --- | --- |
| | | Posting Results |
Eclectic Edge will be compiling your results and you'll be able to start uploading your time beginning May 10. There is no set time frame to complete your run. Pick a time when you feel good and when your route is clear.

*Post Your Results at: https://runontheriver.page.link/Results

*There is no obligation to upload your time. If you have an active registration you will receive your finishers medal and swag.
*Share photos and video of your run. It isn't a requirement but you will be entered into our raffle contest. Post to Facebook and Instagram or send them to us via email to post.
@runontheriver, @buoybeer #runontheriver and #virtualrun
| | | |
| --- | --- | --- |
| | | Packet Pickup |
Packet pick up or mailing details will be provided prior to the event.
| | | |
| --- | --- | --- |
| | | Astoria Parks Recreation and Community Foundation |
Run on the River is a fundraiser hosted by the Astoria Parks, Recreation and Community Foundation, sponsored by Buoy Beer Company and supported by local businesses. The intention is to raise money for scholarships for individuals and families to utilize health and wellness programs provided by Astoria Parks and Recreation. Proceeds from Run on the River contributed to scholarships for furloughed Coast Guard families, youth swimming lessons, family fitness memberships and team sports registrations. Thank you for your support!
| | | |
| --- | --- | --- |
| | | Check out highlights from 2019 |
| | | |
| --- | --- | --- |
| | | Help us Support our Sponsors! |
| | | |
| --- | --- | --- |
| | | Questions? |
For event-related questions, please click on the Contact the Organizers button on the left-hand side of this page.
---
When this page loaded, the official time was 3:50:40 AM EDT.