SHERMAN STEICHEN MEMORIAL RUN - 23rd Annual
in United States at MILLER'S LANDING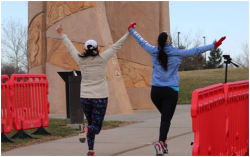 10K
Shirt included and guaranteed when registered by March 14th

Online registration is closed for this category.




---

5K
Shirt included and guaranteed when registered by March 14th

Online registration is closed for this category.




---

Defer 21 10K

Online registration is closed for this category.




---

Defer 21 5K

Online registration is closed for this category.




---

Withdrawn

Online registration is closed for this category.




---
| | | |
| --- | --- | --- |
| | | Who were Sherman and Steichen? |
Brett Sherman joined Creighton's pharmacy program in the Fall of 1995. During his time at CU, he made many friends. Classmates remember Brett as the selfless one who would wait until everyone else picked the choice assignments and then volunteer to do whatever was needed to complete a group project. Brett seemed to have found his niche in the pharmacy profession. His instructors remarked that he would have been an outstanding pharmacist because of his attention to detail and genuine concern for others. Those who knew him knew that much of his free time was spent outdoors camping, skiing, hiking, fishing and biking with friends and family. Brett was dependable, considerate and well-loved. He was a quiet man and his good nature was evidenced in his ready grin. All who knew Brett Sherman miss him. He was a scholar, a gentleman, and most of all, he was a friend.


Nick Steichen was a member of the Creighton University Physical Therapy class of 2000. Nick died on Jan. 2, 1998, after having completed the first semester of the physical therapy program at Creighton. Nick was a talented and unique person. He was intelligent and hard working. He helped others whenever he could, and he made sure he had fun. He was good person. He was optimistic, patient, generous and a friend to everyone. He was never too busy to help his classmates when they were having difficulties in their courses. While Nick always earned very good grades, he was most interested in knowledge, and learning those things that would make him a good therapist, not in memorizing facts for a test. Nick was also proud of his family. He talked about his parents and his siblings frequently. He showed pictures of his nieces and nephews to whomever was around him, and he told family stories to anyone who would listen. He made it clear that his family was special, and that he was a family man all the way. There was much more to Nick and his life than what we knew of him while he was here, and so we honor him with this event.
| | | |
| --- | --- | --- |
| | | Benefitting |
All proceeds go toward the Sherman-Steichen Scholarship Fund.
| | | |
| --- | --- | --- |
| | | Questions? |
If you have questions, please use the "Contact the Organizers" link on this page.
---
When this page loaded, the official time was 7:47:42 PM EDT.