Youth Resiliency Adventure
in United States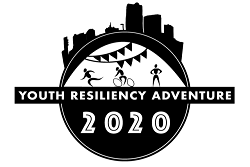 Set Your Virtual Distance
Oct 1 - Oct 31
Please scroll down for event information Walk, Run or Bike Anywhere

Online registration is closed for this category.




---

Donation Only
Event entry not included
Please scroll down for event information

Online registration is closed for this category.




---

Withdrawn

Online registration is closed for this category.




---
| | | |
| --- | --- | --- |
| | | About Youth Resiliency Adventure |
Youth Resiliency Adventure is focused on raising capital to fund addiction prevention programs targeting At-Risk Youth and Young Adults in the Greater Cincinnati Tri-State area. It is a proactive approach in the community's efforts to engage, head on, the challenging factors of addiction. It is a month-long virtual athletic event to Walk, Run, or Bike a personal distance goal.

Our Goal is to raise $75,000 in the month of October.

Where will the money I raise go?

Great question! The goal of the Youth Resiliency Adventure is to raise funds to go towards FOCAS' efforts and activities to prevent addiction. It's that simple!

Addiction kills and destroys families – especially youth! It is no respecter of one's age, background, race, or neighborhood.

Most of us know, or know of, someone who has been hurt by some form of addiction. Perhaps it involves someone in your family? The pain is real and at times – devastating.

Your commitment to the Youth Resiliency Adventure lets us work together in our community. Our combined effort will create or enhance programs in preventing youth addiction.

Together, we can make a difference in the Tri-State and the country.

Getting Started – Register!

I understand that this event may be cancelled by conditions outside of the control of event organizers for the safety and well-being of event staff, participants and the community; such as severe weather, civil unrest, pandemics, bans on public gatherings, threat of terrorism, or other unforeseen circumstances that would make the event non-viable, and if so, I consent that I am not entitled to a refund or deferral once my race registration is complete.
| | | |
| --- | --- | --- |
| | | Getting Started |
Getting Started

It is simple – we like it that way!

1. Choose to Walk, Run or Bike. No, you don't have to form a committee. Just go with what you enjoy doing the most. Let "FUN" be your guide!

2. Set your distance goal. (Example – I am going to walk 50 miles over 14 day. That is only about 3 ˝ miles per day!) By having a goal, people will be able to cheer you on.

And, your friends and family will probably want to help you "go the distance." They won't let you give up! (Hint: The bigger the distance goal the more help and encouragement you will likely receive!)

3. Ask friends and family to sponsor you. (Example – you can ask for them to sponsor you per mile or for a flat amount once you have accomplished your goal.) Let all your friends and family members know what your goal is and how much money you plan to raise.

Be sure to tell them that you are trying to prevent kids from getting trapped in a destructive lifestyle of addiction. It is likely that people you know may have experienced a situation involving a friend or loved one who has dealt with addiction.

Show people grace who are unable to financially support you. Not everyone will be able to help you, and that is okay! It is okay to ask them to tell their friends about your goals. It is possible that people they know may want to help you. You just never know unless you politely and enthusiastically ask.

4. Go do it. (Hint – Ask your friends to go with you. Better yet, ask them to register and try to raise awareness and funds together.)

Show your progress on your social media site(s) as you are doing it! Just keep it simple.

5. Report the amount of funds raised to FOCAS Not Later than the end of the business day on Nov. 2, and be sure that the funds are sent to FOCAS, PO Box 5099, Cincinnati, Ohio, 45205 not later than Nov. 2. The Donate Tab will explain how to actually collect the money people give to you or pledge.
| | | |
| --- | --- | --- |
| | | Fundraising |
FUNDRAISING IS A TEAM ACTIVITY WHERE COLLABORATION IS KEY!

Your fundraising collaboration will support our work in the Tri-State

Introduce or maintain programs that attract at-risk youth, young adults and their caregivers.

Enhance awareness and involvement from the community in FOCAS's efforts toward youth resiliency.

Honor a loved one whom you lost to drug addiction or suicide.

Train the next generation of leaders.

Foster collaboration with other organizations, schools, and agencies.

Purchase equipment

Education


Donate:

Getting Paid – Let's make this easy. Just like your ABCs
Okay, you have set your distance goal and determined if you are going to Ride, Run, or Walk. And, you have people who have committed to sponsor you for each mile or a flat rate for reaching your goal. You even created a social media page to let the world know your goal. Wow, so what is left to do?

A. Get an App Crawler to show your treks.
Go to App Crawler for a variety of different Android and Mac apps to download on to your cell phone. Sports Tracker Running Cycling is one option. There are many good ones to choose from. You just want to be sure it can track and record each time you go out to Bike, Run, or Walk; so that, you can prove that you accomplished your goal in the time allotted. The app should also let you share it on your social media platform. It's your call. appcrawlr.com/android/sports-tracker

You must show your miles logged via GPS tracking vehicle via your electronic device.

B. Be gone! Go Get 'er done
Go do it! Have some fun. Promote your treks on social media. Once you are done, let your sponsors know that you hit your goal or target. Be prepared to tell them how to send in their pledge, which is step "C".

C. Collect the funds
They will ask you how to give you the money. Ideally they should do it online via the registration process. However, they can also do it by cash, check, PayPal, Venmo, or other means. IF THEY DO NOT DO IT THROUH THE REGISTRATION PROCESS IT WILL UNLIKELY BE ABLE TO GET A RECEIPT FOR TAX PURPOSES. Don't be surprised if they give you cash, because it is an easy transaction. This will be explained last.

CREDIT CARD - The easiest method is to use go to YOUR REGISTRATION PAGE YOU WERE ASSIGNED AT THE TIME YOU REGISTERED FOR YOUR EVENT

Check – Have them make the check payable to: FOCAS and mail it to

FOCAS
PO Box 5099
Cincinnati, Oh. 45205

In the memo section they must write YRA2020 and your name.

Cash – Collect all the cash and add it up. If the amount is less than $25.00 you can mail it to the above FOCAS address. Or, if you prefer, and/or the amount is more that $25.00 you can either:

a. Go to any KeyBank and make a deposit into the account of: Foundation of Compassionate American Samaritans. Donations can be deposited by an individual when they visit any Key Bank locations. They simply need to provide the following information:

Business Rewards Checking Account
FOCAS
Scott Bowers – Executive Director FOCAS

Ex: Please deposit $XX of funds to the Business Rewards Checking Account of FOCAS under Scott Bowers.

b. Drop the cash off at FOCAS HQ. or Lord's Gym 1211 York Street 1st Floor, Cincinnati, Oh. 45214 between 8:00 am and 4:00 pm. M-F.
| | | |
| --- | --- | --- |
| | | Questions? |
For event-related questions, please click on the Contact the Organizers button on the left-hand side of this page.
---
When this page loaded, the official time was 11:18:43 AM EDT.