Super Bowl Run: 10K, 5K and Kids K
in United States at Valley High School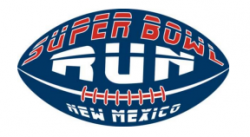 10K Run Registration

Online registration is closed for this category.




---

5K Run or Walk Registration

Online registration is closed for this category.




---

Kids K Registration (Ages 12 & Under)

Online registration is closed for this category.




---

Withdrawn

Online registration is closed for this category.




---
| | | |
| --- | --- | --- |
| | | About this Event |
Register now for the Super Bowl "Touchdown for Fitness" Run. This annual event is a great way to kick off your Super Sunday! This is a flat and fast loop course located in the heart of the North Valley with the start and finish at Valley High School. Age Group and overall awards including long sleeve shirts. A portion of the proceeds will benefits the RunFit School-Based Food Pantry Program. Register today and join hundreds of participants at the start!
| | | |
| --- | --- | --- |
| | | Participant Information |
Valley High School
1505 Candelaria Rd. NW
Albuquerque, New Mexico 87107

Event Schedule: February 2, 2020
Start Times:
10K: 11:00 A.M.
5K: 11:15 A.M.
Kids K: 12:15 P.M.

Packet Pickup:
Saturday, February 1, 2020
11:00 to 3:00 p.m.

FLEET FEET SPORTS
North Towne Plaza
5901 Wyoming suite R
Albuquerque NM 87109

PLEASE NOTE: THERE IS RACE-DAY REGISTRATION; HOWEVER, ALL PRE-REGISTERD PARTICIPANTS MUST PICKUP THEIR EVENT PACKETS AT "PACKET PICK-UP."

If you are not able to pick up your packets in person at packet pickup, you must plan for a representative to pick up your packet. Any out of town participants may pick up their packet on race morning at the registration area between 9:30-10:30 a.m.
| | | |
| --- | --- | --- |
| | | Course Information |
5K & 10K: Valley H.S. Football Field/Track (Located just west of V.H.S Main Buildings)

The start of the 10K is next to the Valley High School Track (Parking Lot). The 5K start is located on the V.H.S. Track next to the start of 10K.

KIDS K: The Kids K will start on the Valley High School track and finish at Griegos Elementary field which is located next to V.H.S.

All events will start on the Valley H.S. Track. 5K and 10K participants must be at the track no later than 10:50 a.m. prior to the 10K start. All 5K participants are asked to wait on the north side of the track in the grass and cheer on the 10K participants prior to the Finish is located at the Griegos Elementary School Field just north of Valley Pool Road. Race day registration and post-race activities will be held near the finish.

Reminder: This race is a Gun Start with a Timing Chip/Bib finish. The "official time" will start when the gun/horn goes off. All timing chips will be available at the registration area at the Griegos Elementary School Field. All participants MUST wear a timing chip/bib in order to be factored into the results and be eligible for Overall and Age Group Awards. Timing chip must be zip-tied (preferred) or laced to shoe. Note: RunFit may elect to use the Race|Result Timing system. In this case, timing chip will be located on the back of bib. Participants must wear their race bib in the front and visible to race officials and volunteers.

Review the Course and Support:

Decide where your family and friends can cheer you on when you most need the support.
There are fluid replacement stations on the course:
Water and Gatorade will also be provided for the 10K and 5K events: see course link(s):

COURSE MAPS: www.irunfit.org
COURSE MAP LINKS (MAP MY RUN). See course link below:

Note: 10K and 5K Course is same as Cherry Garcia Run and Chunky Monkey Run

Click here for 5K Map
Click here for 10K Map
| | | |
| --- | --- | --- |
| | | Parking |
Valley High School & Griegos Elementary School.

NOTE: ACCESS TO VALLEY HIGH AND GRIEGOS ELEMENTARY IS LOCATED ON SAN ISIDRO JUST WEST OF VALLEY HIGH SCHOOL – ON VALLEY POOL ROAD.

Note: Please arrive between 9:30 a.m. and no later than 10:30 a.m. This will give you time to pick up your timing chip near the finish (Griegos Elementary School Field). Valley Pool road will be closed to traffic after 10:30 a.m.
| | | |
| --- | --- | --- |
| | | Things to Know |
Bathroom Facilities:
Bathrooms are located near start/finish. Please allow plenty of time in order to get to the start.

Race (Bib) Number Requirements:
Each participant will receive a Race (Bib) number that must be worn on race day. DO NOT alter your race number in any way. Your bib number must be visible and worn on the front outside of all clothing during the entire race so that it may be clearly seen. Bib numbers are non-transferable, and MUST be worn by the runner to whom it is assigned.

Medical Support:
Medical staff members will be ready to assist you at any time. Radio communications personnel will be positioned at every aid/water station along the course.
The event officials have the right to withdraw any runner from the race that appears in distress or at risk. If you have a health or medical problem at the Finish Line, please notify event officials or volunteers. Please cooperate if you are asked to go for a checkup. If you feel that you need help at any point, please ask for it!
If you are unable to finish the race for any reason, please notify a race official of your bib number so that the medical personnel are aware. Also, please remember to hydrate throughout the day as well as at the water stations along the course.
| | | |
| --- | --- | --- |
| | | Awards |
Finish Information:
The overall and division award winners will be announced at the Awards Ceremony on race day – immediately following the Kid K.

10K
Overall prizes will be awarded to the top three men and women determined by gun time.
Age group prizes will be given to the top three finishers in the following categories for men and women: 19 and Under, 20-24, 25-29, 30-34, 35-39, 40-44, 45-49, 50-54, 55-59, 60-64, 65-69, 70-74, 75-79, 80+.
Award times will be determined by gun time.

5K
Overall prizes will be awarded to the top three men and women determined by gun time.
Age group prizes will be given to the top three finishers in the following categories for men and women: 12 and Under, 13-15, 16-19, 20-24, 25-29, 30-34, 35-39, 40-44, 45-49, 50-54, 55-59, 60-64, 65-69, 70-74, 75-79, 80+.
Award times will be determined by gun time.

Kids K
All registered participants (12 and under) are eligible to participate in the Kids K. The start of the Kids K will begin at 12:15 P.M. Kids K starts on the track at Valley H.S. This is a non-timed event. All participants will receive a special recognition award at the finish.
| | | |
| --- | --- | --- |
| | | Post-race: |
Post-race refreshments provided by RunFit
| | | |
| --- | --- | --- |
| | | Results: |
| | | |
| --- | --- | --- |
| | | Volunteer Information |
Volunteers are still needed to help! Please contact RunFit at (505) 217-4774 to volunteer for race day or email: stephenpino@hotmail.com

Thank-a-volunteer campaign!

The Super Bowl Run is fortunate to have some of the friendliest and hardest-working volunteers around. Volunteers help us on race day to ensure you feel welcomed, are fully informed, have a safe, successful and positive running experience, and more! When you have a chance, give a hearty, fun-loving thanks!
| | | |
| --- | --- | --- |
| | | Sponsors |
We would like to thank the following sponsors for their support: Fleet Feet Sports, Planet Fitness and Por Vida Therapeutics
---
When this page loaded, the official time was 3:38:03 PM EDT.