Next Step - Zero to Weekly
in United States at Hammond High School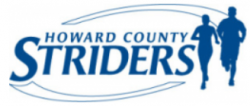 Individual Registration
Starts on 7/8/19 at 6:30 PM.

Online registration is closed for this category.




---
| | | |
| --- | --- | --- |
| | | General Information |
Time:
6:30 PM - 8:00 PM

Location:
Hammond High School
Columbia, MD

Duration:
8 weeks

Start:
07/8/2019
| | | |
| --- | --- | --- |
| | | About Zero to Weekly |
If you've thought about running, but didn't know how to start, or you've tried running and gave up because it was too hard, this program is for you! Our coaches will help you progress from not running at all to running up to 3 miles after following our 9-week program.

Zero to Weekly assumes you have never run before, and gives you the tools to run a 5K (3.1 mile) distance by the end of the program. Coaches will meet participants for a workout once a week, and you will be expected to repeat this workout two to three more times before the next week's meeting. At the end of the session, participants may optionally run a complimentary Striders Weekly 5K race.

This is a low-key, no-fuss, family-friendly program. We welcome men, women, aged 18 and up. Anyone under 18 interested in starting to run should consider joining the Junior Striders. Your enrollment fee includes one free entry to a Striders Weekly race.. If you are not already a Strider, you can sign up here.
| | | |
| --- | --- | --- |
| | | Questions? |
For event-related questions, please click on the *Contact the Organizers* button on the left-hand side of this page.
---
When this page loaded, the official time was 2:39:04 AM EDT.