NEW - Virtual Run On The River - 2020
Sunday, May 31, 2020
in Astoria, OR at Your personal bubble!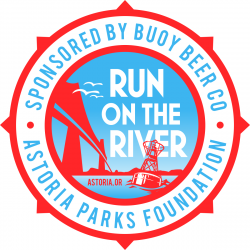 * Click here for fee information
| | | |
| --- | --- | --- |
| | | THANK YOU FOR PARTICIPATING VIRTUALLY |
The VIRTUAL Run on the River Half Marathon, 10k, and 5k sponsored by Buoy Beer Company and our local sponsors is here!

Check this site for updates.

MEDALS ARE SOLD OUT! Thank you to everyone who signed up for our run! Registration is still open and you can still order a shirt and get your Buoy Voucher! But MEDALS are officially SOLD OUT.

Thank you for signing up and for supporting our Astoria Parks, Recreation and Community Foundation fundraiser this year. We are thrilled to provide our registered participants a $20 voucher from Buoy Beer Co, a fun race t-shirt and our signature glass medal. You'll also receive a link to the 'Run-a-long the Columbia River Video' which is customized for each race length and led by a couple of our amazing local runners.

We will miss you all on race day but hope that you will share the photos of your run and will brag about your swag once it arrives. Let's all celebrate this very unique accomplishment together - virtually.
| | | |
| --- | --- | --- |
| | | YOUR RUN OR WALK ROUTE |
Running/Walking:
In the next week you'll receive an email with the link to your run-along and instructions to post your results. You don't have to wait for the email or the packet.
You may start your run... now.
*Please maintain your personal physical distance.
*Please be extra mindful of other people's personal space where ever you choose to run.
*Pick a location in your neighborhood or community that you've run before; that isn't crowded; that is safe.
*Or run-along at home to our custom route video.
*Above all else BE SAFE!
| | | |
| --- | --- | --- |
| | | POST YOUR RESULTS (Optional) |
Posting Results:
Eclectic Edge will be compiling your results and you'll be able to start uploading your time beginning May 10. There is no set time frame to complete your run. Pick a time when you feel good and when your route is clear.

*Post Your Results at: https://runontheriver.page.link/Results

*There is no obligation to upload your time. If you have an active registration you will receive your finishers medal and swag.
*Share photos and video of your run. It isn't a requirement but you will be entered into our raffle contest. Post to Facebook and Instagram or send them to us via email to post.
@runontheriver, @buoybeer #runontheriver and #virtualrun
| | | |
| --- | --- | --- |
| | | PACKETS |
REGISTRATIONS MADE AFTER MAY 17 WILL NOT RECEIVE A MEDAL -THEY ARE SOLD OUT!

Packets:
We're working with our favorite vendors and are being very mindful of their workers' safety and reduced schedules. Thank you for being patient while we get the packets prepared and then sent out as soon as reasonably possible.
*With that in mind, we can not provide an estimated delivery date as of yet.
*We do plan to send packets out in at least two waves. We'll start in order of registration. However, if you post your race results prior to the first wave, we'll include your packet in that first mailing.
*Anyone living outside of Astoria will be sent their packet to the address on their registration. Packets to the same address may be combined.
*Astoria area residents will be provided instructions in a future email to pick their packets up at a no-contact drive thru at the Astoria Aquatic Center at a designated date and time.
| | | |
| --- | --- | --- |
| | | CONTEST |
Contest:
After all the packets go out we'll be raffling two Buoy Beer Co. Swag Prizes to participants who post results and photos of their run and swag.
@runontheriver @buoybeer #runontheriver and #virtualrun
| | | |
| --- | --- | --- |
| | | Virtual Run on the River Announcement |
| | | |
| --- | --- | --- |
| | | VIRTUAL KIDS RUN |
The Kids Fun Run is FREE and you can buy the kids multi-color tie-dye shirts at registration. We'll email a Kids Run bib to be printed out at home for our youngest participants.
| | | |
| --- | --- | --- |
| | | Virtual Run on the River |
REGISTRATIONS MADE AFTER MAY 17 WILL NOT RECEIVE A MEDAL -THEY ARE SOLD OUT!

We know you have been anxiously waiting to hear the status of the Astoria Run on the River 2020. The Run on the River committee - made up of dedicated volunteers from the Astoria Parks, Recreation and Community Foundation, the Astoria Parks Department, runners in our community and Buoy Beer Co. have been monitoring the developments of the COVID-19 pandemic and following the declarations by the Governor of Oregon and our local government. And with that our fundraiser for the community, Run on the River, must adapt. And so….

Run on the River is going Virtual.

While our hearts are heavy that we won't be able to share a Buoy beverage with you on the Riverwalk this year, our intention is still the same:

Run on the River is a fundraiser to benefit families and individuals to access health and wellness in our community. That, by the way, is also our number one priority for all of our Run on the River participants, volunteers, sponsors and the community who support our fundraiser - continued health and wellness.

So what does the 7th Annual Run on the River Sponsored By Buoy Beer look like this year?

For those of you who are currently registered for the 5k, 10k or Half marathon you will automatically be signed up for the Virtual Run.

The VIRTUAL RUN can be accomplished in the comfort of your own home or on your favorite route in your community while maintaining your 6-foot personal space bubble in order to accomplish responsible social distancing. We'll send you a Run on the River 2020 t-shirt, a finisher's medal (it's finally orange this year!), and a voucher to be redeemed at Buoy Beer Co. You will also receive a HUGE thanks for helping us provide future scholarships for kids' swim lessons and youth sports.

That is not all - our route coordinator John will be creating a run-a-long video you can run to on your own exercise equipment for each of our race lengths. We'll even make it more realistic by adding some snark from our race announcer, Norma.

We look forward to seeing your Virtual Run highlights on social media. #runontheriver #virtualrun

If you prefer not to participate in the Virtual Run you may choose to donate your registration fee to the Astoria Parks Foundation. Your registration fee will go to the scholarships for the Parks and Recreation Department. We won't send the t-shirt, or a medal but the people who benefit from the funds raised by our most significant fundraiser will be grateful.

In the next few days the Registration site will be updated to also include a Virtual Kids Fun Run with kids t-shirt and a Virtual Zero K (an option to get the shirt and medal without the virtual run).

We know this is a unique time for everyone. Let us know how we can help. The registration is not refundable, but if you feel you need a refund, let us know. We can't provide a full refund due to the costs already incurred to get our event to this point, but we want to be able to help you too, because you are part of our community as well.

Thank you for being a part of our amazing community of runners and volunteers and most of all for helping us raise funds in our community. We can not do this without you.

We'll be updating the registration page and sending updates on Facebook. We'll make every reasonable effort to safely provide your swag in May but we will also be rolling with the changes and obstacles COVID-19 may bring. We thank you for your understanding.

Sincerely,
Jennifer Benoit
Volunteer Race Director
Run on the River
Astoria Parks, Recreation and Community Foundation
| | | |
| --- | --- | --- |
| | | Past Run on the River Highlights! |
| | | |
| --- | --- | --- |
| | | Check out and Support our Sponsors |
| | | |
| --- | --- | --- |
| | | The Astoria Parks Recreation and Community Foundation |
Run on the River is a fundraiser hosted by the Astoria Parks, Recreation and Community Foundation, sponsored by Buoy Beer Company and supported by local businesses. The intention is to raise money for scholarships for individuals and families to utilize health and wellness programs provided by Astoria Parks and Recreation. Proceeds from Run on the River contributed to scholarships for furloughed Coast Guard families, youth swimming lessons, family fitness memberships and team sports registrations. Thank you for your support!
| | | |
| --- | --- | --- |
| | | Questions? |
For event-related questions, please click on the *Contact the Organizers* button on the left-hand side of this page.
---
When this page loaded, the official time was 7:45:08 PM EDT.