Love Big Celebration - An Evening with Bob Goff
in United States at WOODLAND HILLS FAMILY CHURCH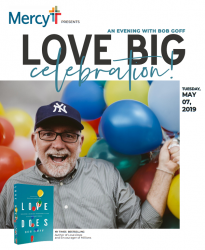 Individual Ticket Sales
Tickets go on sale April 3rd!

Online registration is closed for this category.




---

SPONSORSHIP OPPORTUNITY

Online registration is closed for this category.




---

Withdrawn

Online registration is closed for this category.




---
| | | |
| --- | --- | --- |
| | | Love Big Celebration |
| | | |
| --- | --- | --- |
| | | "WE'LL BECOME IN OUR LIVES WHAT WE DO WITH OUR LOVE" - Bob Goff |
Bob Goff has become something of a legend. His friends consider him the world's best-kept secret. He is the delightfully engaging and winsome New York Times Best-Selling Author of Love Does and Everybody Always.

A self-proclaimed "recovering lawyer," he inspires others to get to the "do" part of life. When Love Does, life gets interesting. Each day turns into a hilarious, whimsical, meaningful chance to make faith simple and real. Love Does has now been translated into ten languages!

Bob continues to be inspired by friendships he's developed with others around the world who live their lives helping others. As an attorney, Bob shares leadership in a Washington law firm, Goff & DeWalt. He is also a professor at Pepperdine Law School and Point Loma Nazarene University. An evening with Bob Goff is light and fun, unique and profound. His life stories, lessons and attitude just might inspire you to be secretly incredible too.
| | | |
| --- | --- | --- |
| | | The Caring People |
A Dream
JoDee Herschend, along with the Herschend family, established Silver Dollar City in Branson, Missouri 50 years ago. In 1997, JoDee founded the Caring People to make a positive difference in the lives of broken families - most often headed by Single Moms. The Caring People host and provide weekly Care Groups, critical resources and special events for Single Moms - all to help them reach toward Christ's unconditional love.

The Impact
Since its inception, the Caring People has made a difference in the lives of 20,000 Single Moms and their children. Currently, 34 Care Groups operate in Missouri, Kansas, Ohio and Oklahoma. The organization continues to reach more Single Moms through your generous support.
| | | |
| --- | --- | --- |
| | | Questions? |
For event-related questions, please click on the Contact the Organizers button on the left-hand side of this page.
---
When this page loaded, the official time was 1:52:49 PM EDT.