Haiti Walk-Run-Ride
in United States at St. Malachy Catholic Church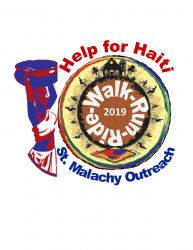 Register 1-4 People
Choose 5K Run or Walk; 9, 25, or 45 Mile Bike on step 2. Ages 5 and under are free - discount applied at checkout. Shirts included.

Online registration is closed for this category.




---

Register 5 or More People
Choose 5K Run or Walk; 9, 25, or 45 Mile Bike on step 2. Shirts included.

Online registration is closed for this category.




---

Donation Only
For those unable to attend.

Online registration is closed for this category.




---
| | | |
| --- | --- | --- |
| | | Purpose of the Haiti Mission: |

Since 1996, St. Malachy Catholic Church in Brownsburg Indiana has been in a partnership with Ste. Marguerite Parish in Port Margot Haiti. The Haiti Mission provides support for church, medical, dental, education, and water programs through a faith-based, long-term relationship. Port Margot is a community with population of the 50,000. Ste, Marguerite Parish in located in the center of town but also has five smaller chapels (Corail, Haut Petit, Bogne, Ti Boy and Bas Quartie) in the northern part of Haiti.


Mission trips with volunteer doctors, nurses, dentists, pharmacist, engineers and volunteers from every background from Brownsburg, Indiana & around the US travel to Haiti on mission trips to help our brothers and sisters.


St. Malachy medical clinic was built in 2002 and since that time has expanded to include a dental office, maternity unit, laboratory and pharmacy staffed year around by local doctors and nurses. The clinic is modern and has a beautiful maternity unit that delivers over 350 babies a year. The new ambulance can transport patients with critical emergencies to a higher level of care when needed.


The Servants of Mary Religious Nuns are responsible for the St. Malachy Clinic. Madre Reyes is the "Chief Nun", but they all are the "Heart" of the operations to ensure that patients get the care they need. The nuns also do home visits to members of the community that can't walk to the clinic.


The water program has ensured that clean water gets to thousands of families throughout the community. Two programs: Gift of Water & Fountains of Hope International, Inc. provide point of use water purification systems to the community. Contaminated water is the number one cause of disease and illness in Haiti & clean water saves lives!


Sponsor-A-Child program helps over 250 children a year to be able to attend school. Sponsoring a child assist with tuition, uniforms & lunches. Ste. Marguerite has two schools associated with the parish: St. Theresa primary & secondary school & St. Joseph primary school. Over 2500 children attend the both schools.

Proceeds from the Haiti Walk-Run-Ride will go to fund the St. Malachy Haiti Mission in Port Margot, Haiti. It helps by providing salaries for doctors, dentist & nurses in the clinic. It also provides lifesaving medications and diagnostic lab test to help treat many common diseases such as hypertension, diabetes, malnutrition and other common infections such as Malaria & Cholera. The maternity unit provides care to women and children with modern facilities and treatment. Funds raised also helps provide education programs, clean water & assistance to those in need.

| | | |
| --- | --- | --- |
| | | About the Event |
Where
The Walk-Run-Ride will begin and end at St. Malachy Church, 9833 east County Road 750N, Brownsburg, Indiana.

When
Sign in begins at 8:00 a.m. on Saturday, May 11, 2019. 45 Mile Ride Event will start at 8:30 a.m., Walk, Run & 9, 25 Mild Ride will start at 9:00 a.m.

Who
Whether you are a walker, runner or cyclist of any skill level, the Haiti Walk-Run-Ride is for you. The Walk and Run will be 100% on the Parish property and the cyclists will be riding on lightly traveled roads in Hendricks and Boone counties with other bicycling enthusiasts.

Donation
Consider giving a donation to the St. Malachy Haiti Mission in addition to your entry fee.

Late Registration
You may register the day of the ride, but the fee increases to $30.00.

Walk, Run and Ride Route Maps and Descriptions
Bike routes will be well marked and will share the same roads and rest stops up to their respective ride lengths. The Walk and Run routes on the property will also be marked.
Copies of Route Maps will be available on the day of the event. Bike Routes are posted on RideWithGps.com. The link to the *2019* route maps is: ridewithgps.com/events/54500-2018-help-for-haiti-walk-run-ride. Please note these are subject to change prior to the event depending on Boone and Hendricks County's road resurfacing schedule in 2019. Check our Facebook page for updates

Special Features of the Walk-Run-Ride
Lunch is included with each registration and will be served from 10:30 am to 12 pm. There will be a Silent Auction of donated items to bid on to benefit the Haiti mission. Additional activities will include Corn Hole and a Free Throw shooting contest. The Bike rides will have two refreshment stops on the 25-mile Route and three stops on the 45-mile route. Each stop, including event headquarters, will feature various snacks, fresh baked goods and fruit, as well as plenty of water, Gatorade and restroom facilities. Support vehicles will be roving on the bike routes to assist with minor mechanical problems or fatigue.
| | | |
| --- | --- | --- |
| | | Questions? |
For event-related questions, please click on the Contact the Organizers button on the left hand side of this page.
---
When this page loaded, the official time was 2:33:06 AM EDT.