Speedway Running Club Events & Membership
in Speedway, IN at Daredevil Brewing Co.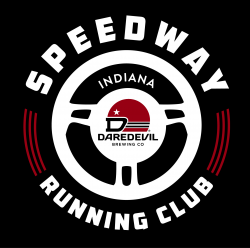 * Click here for fee information
| | | |
| --- | --- | --- |
| | | Membership Details |
Purpose: To provide a safe and fun environment for runners and walkers of all ability levels to meet their fitness goals. Provide motivation and accountability via a year round weekly run/walk of various lengths every Wednesday evening at 6 p.m. on the Speedway Trail system. Our weekly meeting location will be Daredevil Brewing Co. located at 1151 Main Street in Speedway.

Date/Time:
Every Wednesday (year round) @ 6pm
| | | |
| --- | --- | --- |
| | | Marengo Underground 5k Bus Trip |
Join us on a day trip to Southern Indiana to the Marengo Underground 5k Run/Walk on June 29th. We had a blast on our trip last year an we'd love for you to come check it again or for your first time. The Bus leaves Daredevil promptly at 5:00 a.m. Light Snacks and water will be provided. BYOB and lunch or hit the Food Festival on site after the race. Race starts at 9 AM. We will leave Marengo IN promptly at 2:30 p.m. leaving you plenty of time to explore the caves, eat lunch and enjoy the festivities in Downtown Marengo (all are within walking distance of the Middle School) Approx arrival time back to Indy 5:00 p.m. Learn more about the event:
https://www.indystar.com/story/news/2018/12/03/marengo-underground-5-k-check-out-unique-race-southern-indiana/2164031002/

Schedule:

Date: Saturday June 29th 2019
Bus leaves Daredevil promptly at 5:00 a.m. 1151 N Main St, Indianapolis, IN 46224
Bus will leave Marengo IN promptly at 2:30 p.m.
Approx arrival time back to Indy 5:00 p.m.

This registration does not include an entry into the Marengo Underground 5k, but please use the "Contact the Organiizers" button to ask for the club discount code.
| | | |
| --- | --- | --- |
| | | Speedway Running Club Member Benefits |
Benefits of joining:
Pint glass from Daredevil with Club logo
Club Logoed SWAG
Discount on Racemaker events
Discount on Hops and Flip Flops 5k in Speedway (last Saturday in August)
Discount at local running stores
o Endurance House 10%
o Runners Forum (exclusions apply)
Each year when you renew your membership you will receive a new Club logoed item (long sleeve shirts, hat, hoodie, etc. a different item each year)
And the most important benefits, camaraderie, consistency, exercise, friends and fun!

5.00 from each membership will be donated to the Speedway Trails Organization to help maintain the trails
| | | |
| --- | --- | --- |
| | | Charity |
Our biggest contributions of resources (time/money) is directed towards the Speedway Trails to help maintain them, and fundraise to finish paving them. We also have partnerships with the Speedway Animal Rescue, and Marie Hall's Speedway Holiday Families.
| | | |
| --- | --- | --- |
| | | Questions? |
For membership-related questions, please click on the Contact the Organizers button on the left-hand side of this page.
---
When this page loaded, the official time was 5:57:20 PM EST.