Tri Trail Challenge
in United States at Frank Kinney Park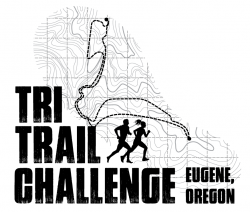 Tri Trail Challenge (8K, 1K, 3K)
Add a shirt to your registration for $12 on step 2 (through 3/22)

Online registration is closed for this category.




---

8K Only
Add a shirt to your registration for $12 on step 2 (through 3/22)

Online registration is closed for this category.




---

3K Only
Add a shirt to your registration for $12 on step 2 (through 3/22)

Online registration is closed for this category.




---

Withdrawn

Online registration is closed for this category.




---
| | | |
| --- | --- | --- |
| | | How The Challenge Works |
If you take on the "Challenge", you'll run three event phases in this order: An 8K with a climb and descent, a 1.5K time trial with a short climb and fast descent, and a 3K flat and fast loop. After all Challenge participants have completed the 8K, results will be posted. Then, all Challenge participants will start their 1.5K time trial in the order that they finished the 8K, taking off at 15 second intervals. After all Challenge participants have completed their 1.5K Time Trial, results will be posted and there will be a 15 minute rest period before the 3K final leg takes off in a mass start.

Challenge participants receive overall and age group points from each of the three phases, and then awards are based on the lowest combined scores. What this means is that there's strategy with each phase - the end results are not based on total time, so if someone in your age group is pulling away from you on a phase, you could conserve some energy for the next phase, since the scores are based on placing. Participants in the Challenge will keep the same bib number with their timing chip for all three phases.
| | | |
| --- | --- | --- |
| | | Course Information |
8K

The 8K course starts and finishes at Frank Kinney Park, along Alpine Loop. It runs up Amazon Headwaters to the Fox Hollow trailhead, over to Dillard Road, loops back to Fox Hollow on the lower loop and then back down Amazon Headwaters.


1.5K

The 1.5K time trial starts and finishes at the staging area on Alpine Loop, runs up the cul-de-sac of Canyon Drive, onto the Amazon Headwaters Trail, left at the main junction, over the ridge to Center Way, Center Way to Martin Street, left on Martin Street and right onto the trail to the finish.


3K

The 3K starts and finishes at the staging area on Alpine Loop, runs north on Rexius Trail, loops left at Fox Hollow Road and follows the Rexius Trail on the west side, back to the finish.


For course maps and further details, visit: www.eclecticedgeracing.com/tri-trail-challenge.html
| | | |
| --- | --- | --- |
| | | Awards |
The top three overall male and female finishers, points-wise in the Challenge will receive awards and the top three in each age group for the Challenge. The first place finisher in each age group for the open 8K and the open 3K will receive awards. (AGE GROUPS: 14 & under, 15-19, 20-24, 25-29, 30-34, 35-39, 40-44, 45-49, 50-54, 55-59, 60-64, 65-69, 70-74, 75-79, 80 & over.)
| | | |
| --- | --- | --- |
| | | Questions? |
For event-related questions, please click on the Contact the Organizers button on the left-hand side of this page.
---
When this page loaded, the official time was 12:36:56 PM EDT.