45th Annual Quad-City Times Bix 7
in United States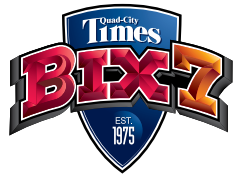 Bix 7 & QuickBix
You decide on race morning which route you want to take.

Online registration is closed for this category.




---

Jr. Bix

Online registration is closed for this category.




---

Elite Athlete - Bix 7 & QuickBix
You must submit Elite Athlete credentials to event organizers at bix7@bix7.com

Online registration is closed for this category.




---

Withdrawn

Online registration is closed for this category.




---
| | | |
| --- | --- | --- |
| | | Quad-City Times Bix 7 Race |
Course
Bix 7 - Starts on Brady St, turns right onto Kirkwood Blvd, turns up Jersey Ridge Rd, turns right onto Middle Rd, turns right onto McClellan Blvd, to a turnaround at River Drive. The course follows back the same way, turns left onto 3rd street to the finish line.

QuickBix - Starts on Brady St (with Bix 7 runners), turns right on 15th St, turns right onto Perry St, turns left onto 4th St to the finish line.

How steep is Brady Street Hill?
The hill is about a 7 to 9% grade, or 4 to 5 degrees, for around one third of a mile.


Race Packet Pickup & Expo Information
The Running Wild Sports & Fitness Expo is the official race headquarters for the Bix 7.

The expo is located in the RiverCenter South Hall at 136 East Third Street, Davenport.

Packet pickup, late registration and expo hours are: Thursday, July 25 from 5 p.m. to 9 p.m. and Friday, July 26 from 9 a.m. to 9 p.m. There will be limited packet pick-up the morning of the race from 6:30 a.m. to 7:30 am. No late registration available on Saturday morning.

When you pick up your race packet, please check that your bib has your correct name, sex, age and ChronoTrack Timing D-Tag number. Proceed to the solutions table if any of the information is incorrect. ChampionChip Timing will NOT be used for our event. If you wear your ChampionChip timing chip your race time will not be recorded.

SPECIAL NOTICE: Due to the nature of this type of event, no refunds will be made if for some reason the event would be canceled. For the safety of all participants, wheeled vehicles are NOT allowed (i.e. baby strollers, roller blades, bicycles, etc.). Wheelchair participants are allowed to compete.
| | | |
| --- | --- | --- |
| | | Questions? |
For event related questions please click on the Contact the Organizers button on the left-hand side of this page.

The Bix 7 hotline number is: 563-383-2489
---
When this page loaded, the official time was 12:44:16 PM EST.