24 Hour Eagle Up Ultra
in United States at St. Helena Park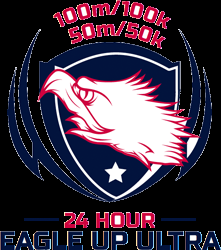 Individual
Select your distance on Step 2

Online registration is closed for this category.




---

WITHDRAWN

Online registration is closed for this category.




---

4-Person 100 Mile Relay

Online registration is closed for this category.




---

8-Person 100 Mile Relay

Online registration is closed for this category.




---

4-Person 100 Mile Relay - Ruck Division

Online registration is closed for this category.




---

8-Person 100 Mile Relay - Ruck Division

Online registration is closed for this category.




---
| | | |
| --- | --- | --- |
| | | Event Details |
Join us for the fourth annual 24-hour endurance race. You have 24 hours to complete 100 miles, the 50/50 (50 miles followed by 50k for a total of 81 miles), 100 kilometers (62 miles), 50 miles or 50 kilometers (31 miles).

Plus you can form a 4-person or 8-person relay team to conquer the 100 miler.

Based at Canal Fulton's St. Helena Park, the course is flat and fast ... on the Olde Muskingum and Ralph Regula Towpath Trails. There's plenty of shade and the scenery is beautiful. Run/walk along the Tuscarawas River and the Ohio Erie Canal.

There are four aid stations on the course, including a super aid station in the park pavilion.

Camping is welcome and FREE! (Please, no digging holes and building individual fires, but camp stoves are permitted.)
| | | |
| --- | --- | --- |
| | | What You Get |
Custom commemorative tech shirt
100 mile, 50/50 and 100k finishers receive a belt buckle medal
Relays, 50 mile and 50k finishers receive a custom finisher medal
All participants receive a swag bag
Michelob Ultra Beer Garden!
All the food, water, sport drink you need
Course marshals and park rangers positioned throughout for your safety.
| | | |
| --- | --- | --- |
| | | Course Information |
The course is entirely on crushed limestone trails, except for a portion on grass through the camping area and the two ends where you will use the berm of Butterbridge and Cherry Street to cross from one trail to the other. The trails are almost completely flat. Mile markers will be placed on the course so you know where you are at all times.

The trails are not completely closed, so you will have to share the space with other runners, walkers and cyclers. Please be aware of those around you.
| | | |
| --- | --- | --- |
| | | Timing |
When you register, we will ask for the distance you intend to complete. This is for our planning purposes, but you are not obligated to complete your distance and stop, nor does it prohibit you from completing a shorter distance than you originally intend.

You will receive the award for the distance you complete. For example, if you registered to complete 50K and you want to keep going and do 50 miles, you will receive the award for what you accomplish.

Each competitor will receive and ankle chip, which MUST BE WORN ON YOUR ANKLE or the timing strip won't read it. Each time you cross the strip, your time and distance will be transmitted to a video screen that you will see just past the strip. You and your friends will also be able to track your process on a mobile app.

Once you have completed your distance, you may leave the course.

You may also stop and rest any time you want, provided you re-enter the course at the exact point you left it.

You are also permitted to leave the area and return. Just please notify a volunteer of your intentions.

You are responsible for turning in your anklet, or you will be charged $75 to replace it.
| | | |
| --- | --- | --- |
| | | Schedule of Events |
Packet Pickup:

Friday, June 7th from 4:00 PM - 8:00 PM
Saturday, June 8th from 4:30 AM - 5:30 AM
Brimstone Bicycles
133 South Canal St.
Canal Fulton. OH
Adjacent to the event site

Friday, June 7
12:00 PM - Arrive and set up camp

Saturday, June 8th
6:00 AM Race Start

Sunday, June 9th
6:00 AM Race Finish
7:30 AM Break camp and go get some sleep
| | | |
| --- | --- | --- |
| | | Beneficiary |
This event is being presented to benefit Team RWB and 23rd Veteran. A portion of every registration not intended to finance the actual race will be donated to the charities.

We encourage non-members of Team RWB to join FOR FREE. Why not associate yourself with one of our nation's largest veterans' service organizations to show your support for our fighting men and women!
| | | |
| --- | --- | --- |
| | | Questions? |
For event-related questions, please click on the Contact the Organizers button on the left-hand side of this page
---
When this page loaded, the official time was 2:39:06 AM EDT.