IWLC Dubuque Women's Leadership Conference
Tuesday, October 16, 2018 in Dubuque, IA at Grand River Center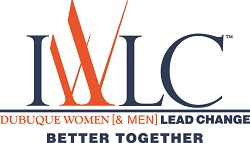 | | | |
| --- | --- | --- |
| | | Presented by: |
| | | |
| --- | --- | --- |
| | | Speakers |
SELENA REZVANI

Selena Rezvani teaches women at all levels to negotiate like a boss. She also consults to employers on how to make work truly "work" for women, by architecting workplace culture assessments and research studies that illuminate working women's experience.

She's the author of two leadership books targeted at professional women, Pushback: How Smart Women Ask—and Stand Up—for What They Want (Jossey-Bass, 2012 & winner of an Axiom book award) and The Next Generation of Women Leaders (Praeger, 2009). Selena addresses thousands of professional women each year and has been featured in the LA Times, Oprah.com, Todayshow.com, NPR.

She's written an award-winning column for The Washington Post and today, serves as a popular columnist on women and the workplace for Forbes. Selena is a VP at Be Leaderly, a leadership development solutions firm, and is based in Philadelphia where she lives with her husband Geoff and 5 year old boy-girl twins.





SHANNON HAMPSHER

Shannon Hampsher heads up Partner and Resellers Marketing at GoDaddy and is based in Cedar Rapids, Iowa. Shannon leads global initiatives designed to empower small-business owners and entrepreneurs. She is also the Iowa Site lead of [em]GoDaddy Women in Technology[/em] (GDWIT), an employee resource group and networking organization with a mission focused on STEM education, Male Allies and Women Empowerment in the technology industry.

Before joining GoDaddy, Shannon served in numerous tech marketing leadership roles, most recently running a consulting firm helping small business startups structure marketing initiatives. Shannon has two very active young children and enjoys traveling, dining out and being an advocate for all things women in tech.





STEDMAN GRAHAM

As a businessman, educator and speaker, he presents, consults and conducts training with corporations, educational entities, the military and veterans, nonprofits and the government.

His Identity message is grounded in the fact that the key to success is self-leadership capability. The Identity Leadership programs, driven by his proprietary Nine-Step Success Process™, are based on the philosophy that individuals hold the power to their educational, career and personal success or failure.

Graham has authored eleven books, including two New York Times bestsellers, You Can Make It Happen: A Nine-Step Plan for Success, Teens Can Make It Happen: Nine Steps to Success and, Identity: Your Passport to Success.

Clients have included Gulfstream Aerospace, Microsoft, Deloitte, Wells Fargo, Lenovo, General Dynamics, the US Departments of Labor, Education and Agriculture, CVS Pharmacy, the Indiana Pacers and the Sonima Foundation. He has also lectured or conducted workshops around the world.

He has served as an adjunct professor or guest lecturer at Northwestern, Harvard, Wharton, University of Chicago, the University of Illinois-Chicago, National University, Highpoint, Howard, Temple, Morehouse, and Pepperdine. He is a veteran of the United States Army. He is a native of Whitesboro, New Jersey.

Graham is the founder of the Concerned Citizens of Whitesboro and Concerned Citizens of Lake Waccamaw, NC and a co-founder of The Community Alliance for Youth Success. He is an ongoing contributor to the Cleveland Foundation Tru2U Project, and to the organization MaDi through provides Identity Leadership education to thousands of refugees who are integrating into new communities and cultures.

Graham holds a Bachelor's degree in Social Work from Hardin-Simmons University, a Master's degree in Education from Ball State University and an honorary doctorate in Humanities from Coker College.

| | | |
| --- | --- | --- |
| | | Agenda Information |
7 - 8:30 a.m. CEO Forum
(BY INVITATION ONLY - Special registration passcode will be provided in your invitation.)
CEO Forum Speaker: Selena Rezvani
TITLE: "Men, Women and the Readiness to Stretch."
7 - 8:30 a.m. Registration / Exhibitors Marketplace
8 - 8:30 a.m. Student Track Welcome & Orientation - Student Track attendees only
8:45 a.m. Conference Opening Remarks
9 - 10 a.m. Keynote Speaker: Selena Rezvani
TITLE: "The Art of the Ask: Negotiating Like a Boss"
10 - 10:30 a.m. Break / Marketplace
10:30 - 11:30 a.m. Keynote Speaker: Stedman Graham
TITLE: "to be provided"
11:45 a.m. - 1 p.m. LUNCH (and time to visit Marketplace)
Lunch sponsored by GoDaddy featuring Shannon Hampsher, Sr. Manager, Marketing Partnerships at GoDaddy
TITLE OF LUNCH SESSION: "If GoDaddy Can Do It, Anyone Can"
Please note: Marketplace closes at 1:00pm
1:15 - 2:15 p.m. Local Panel of Business Women & Men
2:15 - 2:45 p.m. Break
2:45 - 3:45 p.m. Keynote Speaker: Name to be be provided
TITLE: "to follow"
3:45 - 4 p.m. Closing & Conference Adjournment
4 - 4:30 p.m. Student Track Session Wrap-Up, Student Track attendees only
| | | |
| --- | --- | --- |
| | | Exhibitor Information |
We hope you will take advantage of this unique opportunity to market exclusively to women.

Exhibiting at IWLC is:

a great way to showcase women-centric companies and organizations in Eastern Iowa and beyond to more than 900+ women

a great way for attendees to learn about companies and nonprofit organizations that market to and provide services to women

IWLC reserves the right to select exhibitors based on interest and content for our conference participants. An exhibitor is not guaranteed a spot at the conference until it receives confirmation from the IWLC Exhibit Committee. Automated registration confirmation does not indicate that the Exhibitor has been guaranteed a spot. Iowa-based companies/organizations, as well as previous Exhibitors will receive preference when exhibit location is determined.
| | | |
| --- | --- | --- |
| | | Scholarship Information |
IWLC Dubuque Conference attendees have two scholarship opportunities for the October 16, 2018 conference: 1) conference professional track scholarship; and, 2) conference student track scholarship.

PROFESSIONAL TRACK SCHOLARSHIP INFORMATION:
IWLC is committed to making our events accessible to as many individuals as possible -- and the IWLC Scholarship Program exists to make that happen. Applicants are eligible to receive a ONE-TIME Professional Track Scholarship to attend an IWLC event. Once a scholarship has been awarded, individuals are not eligible for future scholarships.

THE DEADLINE FOR THE FULL DAY PROFESSIONAL TRACK IS SEPTEMBER 4, 2018.
YOU WILL BE NOTIFIED BY SEPTEMBER 13, 2018.

Below you will find scholarship information and the application form for the PROFESSIONAL TRACK SCHOLARSHIP:

· Professional Track Scholarship Information Flyer (overview and directions). Click here.
· Professional Track Scholarship Application. Click here.

DUBUQUE STUDENT TRACK INFORMATION.
Our conference in Dubuque on October 16, 2018 includes a specialized programming track for college students, and we are offering student scholarships for that portion of the day. Undergraduate college students should use student application materials below. Full time graduate college students are eligible to apply for either the Professional Track or Student Track.

PLEASE NOTE: Students may apply more than once for a Student Track Scholarship and are encouraged to attend multiple Student Track regional event programs. Student Track Scholarship Recipients are eligible to transition to the Professional Track and apply to receive a ONE-TIME Scholarship to attend.

THE DEADLINE FOR THE STUDENT TRACK APPLICATION IS SEPTEMBER 17, 2018.
YOU WILL BE NOTIFIED BY SEPTEMBER 27, 2018.

Below you will find scholarship information and the application form for the STUDENT TRACK SCHOLARSHIP:

· Student Track Scholarship Information Flyer (overview and directions). Click here.
· Student Track Scholarship Application Click here.

GENERAL SCHOLARSHIP APPLICATION PROCESS NOTES::
· Email ALL application materials to: scholarships@IWLCLeads.org
· Application materials received after the above posted scholarship deadlines will not be considered.
· Application forms must be individually submitted for each event.

For more information:
Phone: 319-423-7175 or email scholarships@IWLCLeads.org

Are you interested in making a tax-deductible donation to support the IWLC Scholarship Program? Please send your personal or business check (payable to IWLC) to:
IWLC, ATTN: Scholarship Program
200 First Street SE, Suite 2100,
Cedar Rapids, IA 52401
| | | |
| --- | --- | --- |
| | | Who We Are |
| | | |
| --- | --- | --- |
| | | Questions? |
For event-related questions, please click on the Contact the Organizers button on the left-hand side of this page.
---
When this page loaded, the official time was 11:26:31 PM EDT.