Abe's Army Training Program
in United States at State Fairgrounds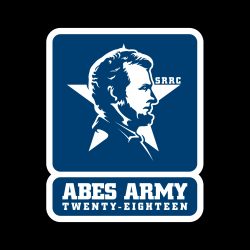 Non-Members

Online registration is closed for this category.




---

Springfield Road Runners Club Member Individual Registration

Online registration is closed for this category.




---

Group Leader - includes shirt through 05/01/18
All leaders must be a registered member of the Springfield Road Runners Club (SRRC). To renew your membership click here: SRRC Membership Registration

Online registration is closed for this category.




---

Individual - includes shirt through 05/01/18
To receive the membership discounted rate of $60 for Abe's Army, you must be a 2018 SRRC member. The cost of membership is $20 for adults. Please select the $80 rate if you are not a member.

Online registration is closed for this category.




---

Registration for two or more family members living at the same address
(includes shirt through 05/01/18)

Online registration is closed for this category.




---
| | | |
| --- | --- | --- |
| | | About This Program (and shirt information) |
Shirt Information:
Please note: Anyone registering after May 1, 2018 is not guaranteed an Abe's Army Training t-shirt.
All leaders and participants will receive the remaining package.

Adult Female Fitted - XS, S, M, L, XL, 2XL
and Adult Men - S, M, L, XL, 2XL


About The Program:
Abe's Army is a 12 week program designed to train new runners and walkers to complete Abe's Amble - Springfield's premier 10K road race, held on the final day of the Illinois State Fair. Abe's Army participants are divided into groups of 15-20 based on similar fitness levels and led by two or more leaders per group.

Abe's Army welcomes runners and walkers of all abilities. Children under the age of 16 are welcome to join; however, they must be under the direct supervision of a parent/guardian and will be assigned to the same group. Please consult your family physician before undertaking any new exercise routine.
| | | |
| --- | --- | --- |
| | | Orientation Meeting & Packet Pickup |
Mandatory introduction meeting will be held on Monday, May 14th at Nelson Center.

Leaders - orientation meeting & packet pickup at 5:45 p.m.

Runners, Walkers & Race Walkers - orientation meeting & packet pickup at 6:45 p.m.
| | | |
| --- | --- | --- |
| | | Training Information |
Abe's Army training sessions will be held on Monday evenings at 5:45 p.m. starting May 21, 2018 at the Illinois State Fairgrounds or Lincoln Park Shelter #7 (just south of Nelson Center).

All participants will meet, on the first training night (May 21), at the Illinois State Fairgrounds, Commodities Pavilion, directly across from the Grand Stand.

Parking is available in Lot #21.
| | | |
| --- | --- | --- |
| | | Registration Fees |
$80.00 (non-SRRC member)
$60.00 (SRRC current members only)

In order to register and receive the membership discount for Abe's Army, please register as a Springfield Road Runners Club (SRRC) member at srrc.net (select from the menu "Join").
The cost of membership is $20 for adults, $30 for families (all at the same address), and $5 for students/youth.

Registration fee includes:



Orientation Session at The Nelson Center, located in Lincoln Park

12 weeks of group instruction and organized group runs and walks conducted by experienced leaders

Water at each organized night training

SmartID band

Moisture-wicking Abe's Army T-shirt

Training log

Curbside injury consultation provided by Springfield Clinic Sports Medicine

Paid entry into Abe's Amble 10K race which includes t-shirt

Post race party and entry to the Illinois State Fair

SRRC membership for the remainder of 2018 for non-members

20% discount at Springfield Running Center

A picnic following the last training run at shelter #7 (just south of Nelson Center)

| | | |
| --- | --- | --- |
| | | Questions? |
For event-related questions, please click on the Contact the Organizers button on the left-hand side of this page
---
When this page loaded, the official time was 3:01:35 PM EDT.