Kerrie Orozco Memorial Run/Walk/Ride/Softball Tournament
in United States at Wabash Trace Trail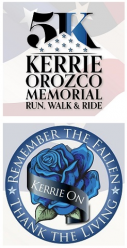 5K
Shirts are guaranteed if registered by September 5th

Online registration is closed for this category.




---

1-Mile Walk
Shirts are guaranteed if registered by September 5th

Online registration is closed for this category.




---

Bike Ride
Shirts are guaranteed if registered by September 5th

Online registration is closed for this category.




---

CO-ED Softball Tournament

Online registration is closed for this category.




---

Donation Only

Online registration is closed for this category.




---

Sponsorship Opportunity
For any monetary donation over $500 - your organization logo will be featured prominently on all signage & advertising materials for the event

Online registration is closed for this category.




---
| | | |
| --- | --- | --- |
| | | Event Details |
Packet Pickup:

Packet pickup for the 5K is Friday, September 14, from 3 pm to 6 pm and Saturday, September 15, from 10 am to 2 pm at Peak Performance, 78th and Cass, and race morning at the Wabash trailhead.

Course Details
Run, walk, bike ride location:
Southeast of Hwy. 92 and I-29, in Council Bluffs IA. Take I-29 south to Hwy. 92 and Exit East. Turn right at Hwy 275(first traffic lights). Go about 1/2 mile south to trail head on right side of road just past Lewis Central High School. The Trace is a relatively flat limestone trail.

Softball tournament location:
Address: 19148 E S Omaha Bridge Rd , Council Bluffs, IA 51503 Approximately 3/4 mile South of Hway 92 on Hiway 275 past Lewis Central High School. Turn Right on E. South Omaha Bridge Road by Wabash Bike Path. Complex is two blocks on right.

Awards
For the 5K there will be age group, overall, and masters awards.

The award is a specialized "KerrieOn" Challenge Coin and holder.


All proceeds from this event benefit Kerrie's Causes
| | | |
| --- | --- | --- |
| | | Kerrie Orozco |
Kerrie Sue Orozco was a native of Southwest Iowa. Born in 1985, Kerrie graduated from Walnut Community School in Walnut, IA. She was very active in high school sports, clubs and community events, her favorites being basketball, volleyball, jazz band and 4H.

After high school, Kerrie attended Creighton University, with the idea of becoming an anesthesiologist. Kerrie eventually caught the public service bug, and transferred and earned a criminal justice degree from Bellevue University.

Kerrie graduated from the Omaha Police Academy on May 15, 2008. After performing various duties with OPD, Kerrie accepted the opportunity to become a Gang Unit Officer. She assisted the US Marshals with their important public safety work.

Kerrie developed her work ethic while growing up on a farm, so it was no surprise Kerrie took it upon herself to learn Spanish. She felt it would help her better interact with Spanish-speaking citizens. In a short time, Kerrie was speaking Spanish as well as English.

Kerrie was passionate about helping area youth. She coached a baseball team at the Boys and Girls Club of North Omaha. It was her habit while patrolling the streets to get out of her cruiser to challenge kids in a game of basketball or recruit them to her baseball team. Of course, Kerrie was not after filling roster spots with blue-chip athletes. She was more interested in finding ways to better their lives, letting kids know the community cared for them, and giving them hope when all else seemed hopeless to them.

Kerrie was proud of her work with the Shop With a Cop program and also facilitated the annual Easter Egg hunt for the Black Police Officers' Association (BPOA) and Latino Police Officers' Association (LPOA) as well as volunteering for Cops and Bobbers.

It was Kerrie's idea to establish the annual Police Officers Ball, a fundraiser for the Nebraska Special Olympics. Animals were also the object of her affection, She fostered Great Danes with the Big Dogs Huge Paws Organization, volunteered with the Girl Scouts, and still had time for her family and extensive group of friends. Kerrie had a loving, expansive heart. Her life was about giving hope to everyone she encountered.

Detective Kerrie Orozco proudly served the City of Omaha for 6 years before she was shot and killed in the line of duty. Kerrie was hours away from taking maternity leave to be home with her baby Olivia, who was born prematurely a few months before her death. Olivia was to be released from the hospital the day Kerrie was killed.
| | | |
| --- | --- | --- |
| | | Sponsors |
Click Here for Sponsorship Information

Your monetary donation to our event will help offset the cost of the event including awards, venue fees, insurance fees and rental of race
paraphernalia. All organizers of this event are volunteers and receive no administrative compensation for their hard work.

Any monetary donation over $500 will your organization logo will be featured prominently on all signage and advertising materials for the
event.

We are in need of donations in the following areas:

Water for participants

Snacks (bananas, protein bars) for participants

Swag for entry bags

Signage to direct participants to their designated area

This is an affordable option to feature your organization's products and services to the many guests of our event. Each registered participant in
the walk/run/ride will receive a bag of local goodies from a select few charitable organizations in the Omaha/Council Bluff's area. Your logo, business pamphlets and contact information can be featured with your donated items (printed items must be provided with the donated items).

Want to donate in a different way? The American Red Cross will be onsite doing blood donations!
Click here for more info: www.redcrossblood.org/give/drive/driveSearchList.jsp?zipSponsor=KerrieOn5K
| | | |
| --- | --- | --- |
| | | Questions? |
For event-related questions, please click on the *Contact the Organizers* button on the left-hand side of this page.
---
When this page loaded, the official time was 11:54:47 PM EST.