IMT Des Moines Monument Mile
in United States at Iowa State Capitol, Des Moines, IA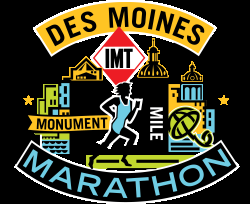 IMT Des Moines Monument Mile

Online registration is closed for this category.




---

Withdrawn

Online registration is closed for this category.




---
| | | |
| --- | --- | --- |
| | | IMT Des Moines Monument Mile |
The IMT Des Moines Marathon has partnered with the Iowa State Capitol Monument Conservation Fund to kick-off the fall racing season with the IMT Des Moines Monument Mile, while raising awareness and funds for monuments in need of repair.

The IMT Des Moines Monument Mile features a 1-mile course on Walnut Street from the Iowa State Capitol to Cowles Commons. Designed for participants of all ages and abilities, entertainment both before and after the race will be offered at Cowles Commons by Final Mix on the Local 5 Stage.
| | | |
| --- | --- | --- |
| | | Schedule of Events |
5:30 p.m. Athlete Check-In and Packet Pick-Up at Cowles Commons

6:00 p.m. Samuel Adams DSM 26.2 Brew Block Party featuring Final Mix on the Local 5 Stage

6:45 p.m. Race Announcements & National Anthem at Soliders & Sailors Monument

7:00 p.m. Men's Competitive Wave - sub 7:00 time standard

7:15 p.m. Women's Competitive Wave - sub 7:15 time standard

7:30 p.m. Recreation Wave - all ages & abilities, including runners and walkers.

8:30 p.m. Samuel Adams DSM 26.2 Brew Block Party Ends at Cowles Commons
| | | |
| --- | --- | --- |
| | | Course Map |
| | | |
| --- | --- | --- |
| | | Parking |
The D-Line will provide free transportation from Cowles Commons to the Iowa State Capitol for the start of the race.

START
Iowa State Capitol Complex - Lot 15 on the north side of the Lucas Building. East 12th Street and Grand Avenue

FINISH
City of Des Moines Parking Ramps - 4th Street and Grand Avenue or 3rd Street and Court Avenue.

IN BETWEEN
City of Des Moines Street Parking - Parking meters in effect until 9 pm in most locations.
| | | |
| --- | --- | --- |
| | | Soldiers' and Sailors' Monument |
The State of Iowa erected the Soldiers' and Sailors' Monument, funded partially by refunded war taxes, to commemorate Iowans who fought during the Civil War.




Iowa artist Harriet Ketcham's design for the memorial was chosen over 47 others. Approved in 1888, the structure was completed in 1896.

Both real and symbolic figures are portrayed. "Victory" is the most prominent figure atop the 135-foot structure.
Four equestrians, all Iowa Civil War generals, are depicted at midlevel:
• Marcellus M. Crocker, who led his troops to victory at Shiloh, Corinth, and Vicksburg;
• John M. Corse, who joined Grant at the siege of Vicksburg;
• Grenville M. Dodge, who built railroads to support Grant's army and accompanied Sherman on the "March to the Sea";
• Samuel R. Curtis, commander of the Union Army at Pea Ridge.

Nearly 80,000 Civil War military men were from Iowa, the largest number of soldiers per capita of any state. The four soldiers at the corners of the base represent Iowans who served in different branches of the military during the Civil War:
• infantryman Shelby Norman, at age 18 the first Iowan killed in battle;
• Ensign William H. C. Michael, a school teacher turned sailor;
• artilleryman Captain Henry H. Griffiths, whose battery never lost a gun throughout the war;
• cavalryman Lt. James Horton, killed while leading a saber charge at the battle of Lovejoy Station.

On the north, a statue portrays Iowa as a mother offering nourishment to her children. To the south, History gazes into the future; at her side, Iowa is shown as a young boy.

There are several unusual challenges in conserving this wonderful work of history and art.

A major component of the estimated $325,000 conservation cost is gaining access to the 10-story tall structure. Scaffolding will consume nearly one-third of the total cost.

The top sculpture is cast bronze. The surfaces exhibit green and black discoloration, a typical sign of corrosion. Left untreated, this corrosion pits the bronze surface, causing irreversible damage. Proper treatment requires cleaning and a fresh chemical patina applied, followed by application of a long-lasting, durable, protective coating system.

The life-sized equestrians require cleaning and a fresh protective coating. This was last done in 1998.

The stone column has failures in the joints. Tuck-pointing will selectively address these issues. The stone also exhibits stains, discolorations, and some spalling. Cleaning and application of a stone strengthening product can stabilize these issues. Application of a preservation-quality water-repellent agent will prolong the cleanliness and stability of the stone.

While the conservation needs of the Soldiers' and Sailors' Monument are the most pressing of the Capitol monuments, many others require less extensive and less costly attention as well. Future generations of Iowans will benefit from our timely care now for these beautiful historical icons.
| | | |
| --- | --- | --- |
| | | Monument Conservation Fund |
Help to conserve the monuments on the Iowa Capitol Grounds

The 187 acres of the Iowa State Capitol are a popular attraction. The world class architecture of the Capitol building is enhanced by other handsome governmental buildings and picturesque landscaping. The IMT Des Moines Monument Mile is a great time to explore the grounds.

Monuments, historical markers, and public art add richness to the Capitol Complex. They honor people and events important to Iowa's history. They add interest and beauty to the Capitol landscape. However, they have not been able to be cared for as well as needed due to scarce funds.

The forty-four sculptures, fountains and memorial tablets are fabricated with durable materials such as stone, concrete, and bronze, but these "permanent" materials are adversely affected over time by cumulative effects such as sunlight, moisture, temperature extremes, and gravity. Proper upkeep and occasional repairs are needed to keep the monuments in good condition and to respect the memories and ideas they represent.

The 2016 Iowa Legislature authorized a public-private approach to this pressing need and established a matching grant appropriation of up to $100,000. These public funds are available in the proportion of $1 for every $2 raised by private donations.

This year the Capitol Planning Commission is pleased to join with the IMT Des Moines Monument Mile to celebrate the Capitol's monuments and invite donations to raise the matching funds.

Please consider making a donation to the Des Moines Monument Conservation Fund Campaign on step two of your registration
| | | |
| --- | --- | --- |
| | | Questions? |
For event-related questions, please click on the Contact the Organizers button on the left-hand side of this page.
---
When this page loaded, the official time was 6:46:53 PM EDT.