Foot Locker West Regional Cross Country 2017
in United States at Mt. San Antonio College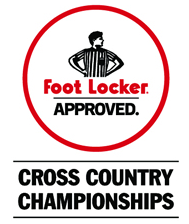 Open Race
5K This race is open to any runners NOT in High School.

Online registration is closed for this category.




---

Freshman Boys
5K

Online registration is closed for this category.




---

Freshman Girls
5K

Online registration is closed for this category.




---

Sophomore Boys 1
5K

Online registration is closed for this category.




---

Sophomore Girls
5K

Online registration is closed for this category.




---

Sophomore Boys 2
5K

Online registration is closed for this category.




---

Junior Girls
5K

Online registration is closed for this category.




---

Junior Boys 1
5K

Online registration is closed for this category.




---

Senior Girls
5K

Online registration is closed for this category.




---

Junior Boys 2
5K

Online registration is closed for this category.




---

Senior Boys 1
5K

Online registration is closed for this category.




---

Seeded Girls
5K

Online registration is closed for this category.




---

Seeded Boys
5K

Online registration is closed for this category.




---
| | | |
| --- | --- | --- |
| | | Race Day Schedule |
Modified Race Schedule
Open Race 7:00
Frosh Boys 7:15
Frosh Girls 7:35
Soph Boys 7:55
Soph Girls 8:15
Junior Boys 8:35
Junior Girls 8:55
Senior Boys 9:15
Senior Girls 9:35
Seeded Girls 10:15
Seeded Boys 10:55
Seeded Girls Awards 11:45
Seeded Boys Awards 12:15
| | | |
| --- | --- | --- |
| | | Packet Pickup/Check-In |
Friday, December 1st
Distribution of race numbers, race information and New Balance/Foot Locker Cross Country backpack takes place from 10:00 a.m. until 6:00 p.m. at Mt. SAC College, Building 50 - G, Fieldhouse. Photo ID required for pick up.

Saturday, December 2nd
Distribution of race numbers, race information and New Balance/Foot Locker Cross Country backpack takes place from 6:30 a.m. until 8:30 a.m. at Mt. SAC College, Building 50 - G, Fieldhouse. Please make every attempt to pick-up your race number before Saturday. On race day, the lines can be long and we cannot guarantee you will be able to get your number in time for your race. Photo ID required for pick up.

Group/Team Package Pickup
| | | |
| --- | --- | --- |
| | | Group/Team Package Pickup |
We will prepare and package your chips/bibs and t-shirts for a quick and easy pick up if the following criteria is met:

1. All members of the group must have registered and paid on line.
2. All group members must list 'Group Name' in exactly the same manner when they register. Example: Members of "Team Butterball" must list their affiliation as "Team Butterball". Simply putting 'Butterball' or 'Butterball Team' , or "TB" will not work. Tell your team members how you want them to list your team name.
3. All group members must list a "Group Leader" as well with the group leader phone number.
4. Registration must be completed by 11:59 PM, Friday, November 24th, 2017.
5. Once all of your team members have registered and paid please send an email to westgroup@footlockercc.com. Tell us your team name and how many runners have paid and registered on line. Send a phone number in order for us to reach you if we have any questions.
6. You will receive one Foot Locker West Jacket for every ten (10) athletes on your list. (example: 27 athletes- receive two jackets, 31 athletes- receive three jackets) Tell us what sizes you would like in your email to Ron Kamaka.
7. Runners in your group who miss this deadline must register as Individuals and wait in line at Pre Race Pick UP.
8. There will no longer be any opportunity for an individual representing a group but who did not register AS A GROUP to come in and pick up for their entire team on packet pick up day. We tried to assist the large groups in the past but there are a number of you now and it has created too many problems for us and the others waiting in line at pick up.
| | | |
| --- | --- | --- |
| | | Race Course Information |
The course is 5000 meters and consists of rolling hills with two steep climbs. 80% dirt trails, 10% cement trails. Course finish line will be in the stadium.

The race course has changed and the start and finish line will be modified due to new stadium construction. Map will be updated when plans are finalized.

School uniforms are not allowed. Athletes may participate in only one race.

Location of the Course
Mt. San Antonio College is located at the corner of Grand and Temple Avenues. Approximately 2 miles west of the 57 freeway.

| | | |
| --- | --- | --- |
| | | States Competing in the West Regional |
Alaska, Arizona, California, Hawaii, Idaho, Montana, Nevada,
New Mexico, Oregon, Utah, Washington, Wyoming, and U.S.
citizens in Overseas Military Installations.

The state where a runner resides determines in which regional meet he/she must participate. Runners must participate in the region to which their state has been assigned. Boarding school students must compete in the region of their school location. Non U.S. citizens who attend high school in the U.S. and who meet the age requirement may compete. Home-schooled students may compete in the region of their residence during the school year.
| | | |
| --- | --- | --- |
| | | Awards |
Medal/Award Information

Medals to the top 15 boys and top 15 girls in the Open Race - 8th grade and under division.

Medals to the top 15 men and top 15 women finishers in the Open Race - post high school division. Please note that the only two divisions in this race are male/female. There will be no distinction made to grade or age.

Medals to the top 48 finishers in all grade level races.

"All West Team" certificates for the top 24 runners (based on finish time) taken from the Frosh and Soph races. This is overall and not per grade level.

Medals to the top 24 finishers in the seeded races. In addition, the top 10 finishers in the boys and girls seeded races will advance to the Foot Locker National Championships in San Diego the following Saturday.


Participant's Awards
Every runner in every race will receive a short-sleeved New Balance/Foot Locker Cross Country backpack and a meet program highlighting the previous 38 years of Foot Locker races, as well as previewing this year's race.

State Team Awards
The top five boys and top five girls from each individual state will constitute that state's "team." Each individual in the top five state teams will receive a medal. All races will be considered in the scoring. Scoring is based upon cumulative time basis.

National Qualifiers
The top ten (10) finishers in each of the seeded races qualify for the Foot Locker National Finals in San Diego, CA on December 9, 2017.
| | | |
| --- | --- | --- |
| | | Thank You Sponsors! |

| | | |
| --- | --- | --- |
| | | Questions |
For event-related questions, please click on the *Contact the Organizers* button on the left-hand side of this page.
---
When this page loaded, the official time was 7:00:20 AM EDT.