Foot Locker South Regional Cross Country 2017
in United States at McAlpine Park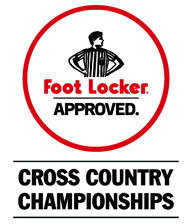 Open Race and Masters Race
Race O & M

Online registration is closed for this category.




---

Boys Freshman Race
Race A

Online registration is closed for this category.




---

Boys Sophomore Race
Race B

Online registration is closed for this category.




---

Girls Junior/Senior Race
Race C

Online registration is closed for this category.




---

Girls Championship Race
Race D

Online registration is closed for this category.




---

Boys Championship Race
Race E

Online registration is closed for this category.




---

Girls Sophomore/Freshman Race
Race F

Online registration is closed for this category.




---

Boys Senior Race
Race G

Online registration is closed for this category.




---

Boys Junior Race
Race H

Online registration is closed for this category.




---

13-14 Girls and 13-14 Boys (5K)
Race I

Online registration is closed for this category.




---

11-12 Girls and 11-12 Boys (3K)
Race J

Online registration is closed for this category.




---

Boys and Girls 10 & under (3K)
Race K

Online registration is closed for this category.




---
| | | |
| --- | --- | --- |
| | | Friday Night Activies |
Pasta Buffet at the host hotel for $15 from 5:00 PM - 7:30 PM

Special Program in the ballroom at 8:00 PM featuring past Foot Locker Finalists, special guests, and a film of last year's Championship Races.
| | | |
| --- | --- | --- |
| | | Race Day Schedule |
Runners may only participate in one race.

8:00 AM: Race O & M Open Race and Masters Race
8:30 AM: Race A Boys Freshman Race
9:00 AM: Race B Boys Sophomore Race
9:30 AM: Race C Girls Junior/Senior Race
10:00 AM: Race D Girls Championship Race
10:40 AM: Race E Boys Championship Race
11:10 AM: Race F Girls Sophomore/Freshman Race
11:40 AM: Race G Boys Senior Race
12:10 PM: Race H Boys Junior Race
12:35 PM: Race I 13-14 Girls and 13-14 Boys (5K)
12:55 PM: Race J 11-12 Girls and 11-12 Boys (3K)
1:15 PM: Race K Boys and Girls 10 & under (3K)

Note: For all races that are combined, awards will be given separately to each age group.

Any boy or girl in grades 9-12 is eligible to run in the Championship Race. There is no seed time. Choice of race is an individual preference that should depend on the best choice for a successful race. Runners must run in the Championship Race to qualify for the National Finals in San Diego.
| | | |
| --- | --- | --- |
| | | Packet Pickup/Check-In |
All runners receive an official meet program and a New Balance Backpack. Runners pick up their race number and a complete schedule of events on Friday, November 24th, at the Crowne Plaza Executive Park between 8:00 AM - 8:00 PM. Runners can also pick up their race packets at the race site Saturday, November 25th after 7:00 AM
| | | |
| --- | --- | --- |
| | | Race Course Information |
The course is 5000 meters and consists of grass and dirt paths. Spikes are permitted. School uniforms are not allowed. Course is open until dark on Thursday Nov. 23rd and Friday Nov. 24th. The course is closed for warm-ups on Saturday.

| | | |
| --- | --- | --- |
| | | States Competing in the South Regional |
Alabama, Arkansas, Florida, Georgia, Kentucky, Louisiana,
Mississippi, North Carolina, Oklahoma, Puerto Rico, South Carolina, Tennessee, Texas, Virginia and West Virginia, U.S. Virgin Islands, and U.S. citizens in Overseas Military Installations.

The state where a runner resides determines in which regional meet he/she must participate. Runners must participate in the region to which their state has been assigned. Boarding school students must compete in the region of their school location. Non U.S. citizens who attend high school in the U.S. and who meet the age requirement may compete. Home-schooled students may compete in the region of their residence during the school year.
| | | |
| --- | --- | --- |
| | | Awards |
State Team Awards
Gold state team medals are awarded in each of the high school races. The top five finishers from each state constitutes a team.

Medals

The top 36 finishers in all high school races are awarded medals.

Places 1-12 receive gold medals and are First Team All-South.

Places 13-24 receive silver medals and are Second Team All-South.

Places 25-36 receive bronze medals and are Third Team All-South.

The top fifteen (15) men and women will receive medals in the Open race and
Masters race.

The top thirty (36) finishers will receive medals in the age-group races.

Certificates

Each runner placing in the top 36 in the age-group races and each runner in the top 36 in the high school races will receive two (2) certificates, one to keep and one to give to your school to display. These certificates will indicate that these runners are on the Foot Locker All-South Team.

Team Awards in Age Group Races
Plaques will be given to the top three teams in each of the age group races, both boys and girls. Medals will be given to the top five runners on the 1st, 2nd, and 3rd place teams
If you are entering a team in one of the age group races, you must e-mail a final roster to footlockermax@yahoo.com. All entries must be the same team name and all in either lower case letters or upper case letters. They must be identical if they are going to be scored as a team

Coach's Award
Every coach that enters seven (7) or more runners will receive a complimentary gift and a Foot Locker highlight video. Any coach that enters twelve (12) or more runners in the meet will receive all of the above awards as well as possible travel monies. This amount will be based on
distance traveled, total numbers, and on a first come basis. Please notify Max Mayo by e-mail at footlockermax@yahoo.com if you are bringing at least twelve (12) or more runners.
| | | |
| --- | --- | --- |
| | | Lodging |
Special rates are available from the following area hotels. To receive a special rate, mention that you're with the Foot Locker Cross Country Championships. Call early to reserve.

Crowne Plaza Executive Park (Meet Headquarters)
5700 Westpark Drive
Charlotte, NC 28217
Directions to Crowne Plaza:
Take Billy Graham Parkway. Exit right for 6 miles. Cross I-77 and the Crowne Plaza is on your immediate right.
From I-85 (Going South) Take I-77 Exit South. Follow to Exit 5 (Tyvola Road). Exit ramp, cross I-77, and the Crowne Plaza is on your immediate right. From I-77 (North or South) Take Exit 5 (Tyvola Road)

Wingate Inn
Charlotte/I-77 South
6057 Nations Ford Road
Tyvola & I-77
Charlotte, NC 28217
704.523.3366

Wyndham Garden Inn
Tyvola & I-77
704.525.0747

Hilton
5624 West Park Drive
Charlotte, NC 28217
704.527.8000

Comfort Inn
Executive Park
623-748-7684
| | | |
| --- | --- | --- |
| | | Thank You Sponsors! |

| | | |
| --- | --- | --- |
| | | Questions? |
For event-related questions, please click on the *Contact the Organizers* button on the left-hand side of this page.
---
When this page loaded, the official time was 6:40:23 AM EDT.