TrueNorth Greater Cedar Rapids Open - 2017
in United States at Hunter's Ridge Golf Course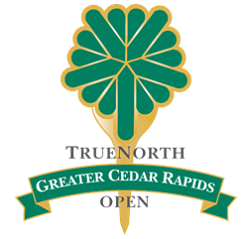 Open Professional - Includes Pro/AM Entry

Online registration is closed for this category.




---

Open Professional - With Pro/AM Opt Out

Online registration is closed for this category.




---

Senior Professional - Includes Pro-Am Entry
Ages 48 & older as of 7/27/17

Online registration is closed for this category.




---

Senior Professional - With Pro/AM Opt Out
Ages 48 & older as of 7/27/17

Online registration is closed for this category.




---

Amateurs - manual entry only

Online registration is closed for this category.




---
| | | |
| --- | --- | --- |
| | | Event Details |
Low Open Pro - $25,000 Guaranteed!

The first prize for the Low Professional in the Open Division will be $25,000!

All competitive tournament rounds and the Pro/Ams will be played at beautiful HUNTERS
RIDGE GOLF COURSE in Marion, Iowa!

Senior professionals will play from different tees than the Open Division.

Projected Professional Cuts

Based on 100 Open Professional entries - Approximately the top 50 plus ties after first 36 holes make the cut for Saturday's final day. Make the cut and you get a check.

Senior Professional entries - NO CUT. We expect to pay top half of competitors in this
division.

Projected Purses

Open Division - $70,000 - Based on 100 pros at $700/entry

Senior Division - $5,000 - Based on 10 Senior pro entries at $500/entry

Additional Information

Your entry into the GCRO also enters you in one of our Pro/Ams without additional charge.Please note, if you choose not to play in a Pro/Am, add the $50 Opt OUT charge to entry fee.

Team/individual prizes will be awarded to pros for the Pro/Ams. Lunch is provided day you play.

Pros playing in the Pro/Am are invited to our Pro/Am Dinner Party Wednesday evening!

If more professionals are entered than are needed for the Pro/Ams, you will be paired with other professionals during the Tuesday morning time slot. You will be eligible for the
individual prizes.

Hunters Ridge head pro Nate Severin and his talented staff will be handling all tee times and pairings for tournament. Tee times will be available via our website or by calling Hunters Ridge (319-377-3500). Please call ahead for information about practice rounds.
| | | |
| --- | --- | --- |
| | | Refunds |
If I need to withdraw from the tournament, can I get a refund?

Withdraw notification for full refund (less $35 processing fee) must be received via email (michelematt@ymail.com) or phone call (319-431-7294) before 5 p.m. Friday July 21. Refunds will be processed the week of the event.
| | | |
| --- | --- | --- |
| | | Questions? |
For event-related questions, please click on the *Contact the Organizers* button on the left-hand side of this page.
---
When this page loaded, the official time was 8:17:14 PM EST.