2017 Dayton Ghost N Goblin 5K by the ORRRC
in United States at 1601 S Edwin C Moses Blvd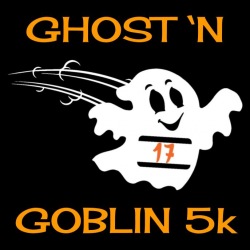 5K Run/Walk - Individual Entry

Online registration is closed for this category.




---

5K Run/Walk - 4-Person Team Member

Online registration is closed for this category.




---
| | | |
| --- | --- | --- |
| | | 32nd Annual Dayton Ghost N Goblin 5k by the ORRRC |
You'll find the 2017 Dayton Ghost N Goblin 5k, presented by the Ohio River Road Runners Club (ORRRC), the best & biggest Halloween-themed road race in town!
Please join us for this special celebration of running, family, and community!
We'll have a great post-race party with a DJ, food, entertainment, and some sponsored surprises!

Event Location:
Welcome Stadium
1601 Edwin C Moses Boulevard, Dayton, OH, 45417
| | | |
| --- | --- | --- |
| | | Packet Pick-Up |
Monday, 23 October 2017
from 12:00 PM Noon - 7:00 PM

Tuesday, 24 October 2017
from 1:00 PM - 6:00 PM (Race Day)

Welcome Stadium (Under the Western Bleachers)
1601 South Edwin C Moses Boulevard, Dayton, OH
| | | |
| --- | --- | --- |
| | | Shirt Information |
This year's shirts will be soft cotton, hooded long-sleeve shirts. We'll have them in dark and light gray with the brand new Ghost 'n Goblin logo on them! Visit www.daytongng.org to see photos of them!

Shirt Sizes
Our shirts for this year are available in all sizes from Extra Small through 4XL, so you're nearly guaranteed to get the perfect fit!

Shirt Size Exchanges
At packet pick-up, if you get a shirt that doesn't fit well, bring it back after the race is over and we'll gladly exchange it if we have your desired size. We can't exchange before everyone else gets the size they ordered though, and even though we order extra, it's imperative for us to make sure everyone gets the size they ordered before we swap.
| | | |
| --- | --- | --- |
| | | Course |
You're in for a flat, fast, and fun course! The Ghost N Goblin course is engineered to ensure you'll have a great time - both on your wristwatch and with your friends!

The Ghost N Goblin 5k route begins on South Edwin C. Moses Blvd around Arena Park Drive. The race heads north on Edwin C. Moses Blvd, turning right onto West Stewart St and going over the bridge headed east. It next turns left (north) onto the Veterans Parkway headed north. Stay on the Veterans Parkway until Washington St, then turn left (west). Cross the bridge and turn left (south) down Edwin C. Moses Blvd following the road until you return to Welcome Stadium. Turn right (west) into Welcome Stadium and then enter the stadium from the north end, running a lap on the track to complete your journey!

See the course here: Ghost n Goblin Course
| | | |
| --- | --- | --- |
| | | Awards |
Awards will be given to:

- Top 3 Male & Female Winners
- Top 3 Four-Person Teams for Males, Females, and Co-Ed Divisions
- Top 5 Male & Female in Age Categories (9-11, 12-14, 15-19, 20-24, 25-29, 30-34, 35-39, 40-44, 45-49, 50-54,
55-59, 60-64, 65-69, 70-74, 75-79, 80+)
- All 8 year olds & under receive finishing medal/award

** Note: You must be present at the Awards Ceremony to receive your award.
| | | |
| --- | --- | --- |
| | | Costume Awards |
Ghost N Goblin is all about Halloween and dressing-up! As is tradition, we'll have our annual costume contest and our select panel of judges will award costumes in the following categories:

1. Best Boy Costume (Under 10 Years Old)
2. Best Girl Costume (Under 10 Years Old)
3. Best Group Costume(s)
4. Best Couple Costume(s)
5. Most Creative
6. Scariest Costume
7. Best Male Costume
8. Best Female Costume
9. Funniest Costume
10. Best Volunteer Costume


TO ENTER: Meet us at the west entrance outside of Welcome stadium at 6pm! :-D
| | | |
| --- | --- | --- |
| | | Post Race Party And Awards Ceremony |
Please join us after the race for a fun-filled celebration with food, entertainment, and the awards ceremony!
| | | |
| --- | --- | --- |
| | | Race Results |
| | | |
| --- | --- | --- |
| | | Scoring |
- All participants will be issued a disposable timing chip on the back of their race number.
- Do not remove the chip from the back of your bib.
- Participants are responsible for wearing their number throughout the event.
- We hate to be harsh, but: No Number = No Results = No Awards
| | | |
| --- | --- | --- |
| | | Rules |
Ghost N Goblins is all about fun, but this is where we have to be a little mean (for everyone's safety and enjoyment of the event):

Strollers
The use of jogging strollers is discouraged. Walkers with strollers must start in the *BACK* of the pack. Runners who elect to participate with strollers, against the RRCA safer racing guidelines, must start on the edge/side of the race. Persons with strollers found in the middle or front of the starting pack, or inhibiting other participants in any way, will be removed from the event.

Animals
No Animals (e.g. dogs, cats, pets): we love them, but not everybody will feel comfortable with them and our insurance forbids it. Persons with animals will be removed from the event. Those with service animals may be requested to show documentation and may be asked to start on the side of the race or in the back, away from the pack (the race is chip timed, so this won't affect your time).

Headphones
Headphones are *strongly discouraged*: they reduce your ability to hear vehicles (it's a closed course, but emergency vehicles may need to use the road) and directions from the race staff. Participants not following race staff/volunteer commands and guidance may be removed from the event.

Race Officials
Race officials commands, including those of the race directors, volunteers, safety, medical, fire, and other professionals shall be followed at all times, especially when concerning the safety, health, and well-being of any and all participants.

Follow all laws, good safety practices, and use common sense, please! :-)
| | | |
| --- | --- | --- |
| | | Volunteer Information |
Are you not a runner or walker? You can still join in on the fun! The Ohio River Road Runner's Club is an *ALL VOLUNTEER* organization and we need nearly 150 volunteers to make Ghost N Goblins happen each year! Each volunteer receives a race shirt and our gratitude for their help and assistance! If you're interested in helping us out, please go to Volunteer Sign-Up and fill out the form! Thanks!
| | | |
| --- | --- | --- |
| | | Questions? |
For event-related questions, please click on the *Contact the Organizers* button on the left-hand side of this page.
---
When this page loaded, the official time was 10:50:32 PM EST.