Return of the Turkey Trot
in United States at Marion High School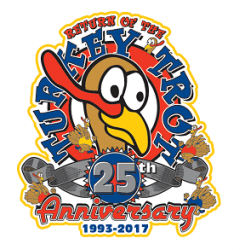 8k run - with shirt

Online registration is closed for this category.




---

4k run/walk - with shirt

Online registration is closed for this category.




---

8k run - no shirt

Online registration is closed for this category.




---

4k run/walk - no shirt

Online registration is closed for this category.




---

Volunteer

Online registration is closed for this category.




---
| | | |
| --- | --- | --- |
| | | Volunteer |
| | | |
| --- | --- | --- |
| | | Schedule |
9:00 AM: 8K Run (chip timing ONLY with 8K Run); 4K Family Fun Run/Walk
10:00 AM: Awards presentation - Marion High School, 675 S 15th Street, Marion
| | | |
| --- | --- | --- |
| | | Location |
Marion High School, 675 S 15th Street, Marion

Start: Marion High School, 675 S 15th Street, Marion
Finish: Marion High School, 675 S 15th Street, Marion
| | | |
| --- | --- | --- |
| | | Packet Pick-Up |
Friday, November 10th
Marion High School
675 S15th Street, Marion, IA

4:00 - 7:00 PM

OR

Saturday, November 11th
Marion High School
675 S15th Street, Marion, IA

7:45 - 8:30 AM
| | | |
| --- | --- | --- |
| | | T-Shirts |


Participants may receive the ever-popular long-sleeved Turkey Trot t-shirt with entry

Registrations received by October 30th are guaranteed the requested shirt size

2XL shirts are an additional $2.

After October 31st, shirts are NOT guaranteed. If available, it's a first come - first served basis

| | | |
| --- | --- | --- |
| | | Awards & Results |
The awards ceremony will be at Marion High School beginning at 10:00 AM.

Final race results will be posted on:



www.horizonsfamily.org

www.fumcmarion.org

www.trottt.com

www.thereturnoftheturkeytrot.com

www.fitnesssports.com.


Results to be posted, but may take several weeks.
| | | |
| --- | --- | --- |
| | | Proceeds |
Proceeds from the Turkey Trot benefit the programs of Horizon's - A Family Service Alliance, a nationally accredited not-for-profit human services agency that helps families break the cycle of poverty, crime, and welfare through a mix of programs designed to promote emotional and financial self-sufficiency.

For more information visit: www.horizonsfamily.org.

FLY (Feeding Lunch to Youth)
FLY serves sack lunches Monday through Friday during the summer months. The lunches are prepared and delivered each day out of Marrion First United Methodist Church by volunteers. Volunteers drive to the sites and hand out the lunches to the children. FLY aims to spread the message of Jesus Christ and the joy of providing and giving to children. FLY is supported by nine congregations, two volunteering corporations, and you. In 2015 FLY provided over 12,000 lunches. For more information log on to www.marionmethodist.org/serve/feeding-lunches-youth
| | | |
| --- | --- | --- |
| | | Awards |
8K Run Awards
Overall Male and Female Winners receive:



A Turkey and a Pumpkin Pie


Division Awards
(8K Run - Male and Female)



1st Place: Gold Medal and Pumpkin Pie

2nd Place: Silver Medal and Pumpkin Pie

3rd Place: Bronze Medal and Pumpkin Pie

NO Duplication of Awards

There will be NO awards for the 4K Family Fun Run/Walk

| | | |
| --- | --- | --- |
| | | Questions? |
For event-related questions, please click on the *Contact the Organizers* button on the left-hand side of this page.
---
When this page loaded, the official time was 12:21:52 PM EST.