Morgan's Little Miami Triathlon - Spring 2017
in United States at Morgan's Canoe & Outdoor Center - 5701 State Route 350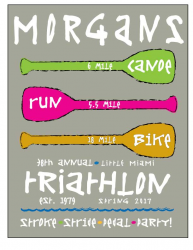 Individual Entry - Full Distance (Kayak/Run/Bike)
6 mile kayak, 5.5 mile run, 18 mile ride.
Awards available for this division
On Step 2, participants will indicate if they have their own kayak.First heats depart at 8:30 am.

Online registration is closed for this category.




---

Individual Entry - Half Distance (Kayak/Run or Walk/Bike)
3 mile kayak, 3 mile run or walk, 8 mile ride.
No awards for this division
On Step 2, participants will indicate if they have their own kayak.First heats depart at 9:30 am.

Online registration is closed for this category.




---

2-Person Team - Full Triathlon
6 mile canoe, 5.5 mile run, 18 mile ride.
Awards available for this division.First heats depart at 9:00 am.

Online registration is closed for this category.




---

2-Person Team - Half Triathlon
3 mile canoe, 3 mile run or walk, 8 mile ride.
Fun race - no awards for this divisionFirst heats depart at 9:30 am.

Online registration is closed for this category.




---

2-Person Team - Open Division - Full Triathlon
6 mile canoe, 5.5 mile run, 18 mile ride.
Open Division is for people who have their own canoe and will be eligible for awards
in the Open division only.First heats depart at 8:30 am.

Online registration is closed for this category.




---

2-Person Team - Open Division - Half Triathlon
3 mile canoe, 3 mile run or walk, 8 mile ride.
Open Division is for people who have their own canoe.
No awards for this division.First heats depart at 9:30 am.

Online registration is closed for this category.




---

Volunteer

Online registration is closed for this category.




---
| | | |
| --- | --- | --- |
| | | Event Information |
Morgan's Little Miami Triathlon Series is the largest triathlon of its type in the United States. The triathlon draws participants for each event from over 25 states.
Morgan's Little Miami Triathlon is comprised of a 6 mile canoe, 5.5 mile run, and an 18 mile bike race, in that order. After the race, enjoy a hot meal and live music provided by The Grey Dogs at our after party! New this year is a 1/2 triathlon (read more about this below).

Morgan's is the oldest Triathlon of its' kind, being modeled one year after the first Iron Man Triathlon in Kona, Hawaii in 1979, with the canoe/kayak leg replacing the swim portion.

The event is made up of 2 person teams; your combined time is used in the results. We also offer an individual/kayak division.

The kayak division is designed for those who wish to race individually without a partner. Participants in the kayak division can bring their own kayak, or use a Morgan kayak. The price is the same.

In the walking division, you are still a two person team, but one or both participants can walk and be timed with other walkers. Due to timing restraints, the walking division will only be offered in the 1/2 Triathlon.

First heats for the spring event goes out at 8am; for the fall event the first heat is 9am.The 1/2 triathlon heats will begin at 9:30 am this spring. Your timing will be assigned upon when we receive your registration. If you want to be part of the same heat as friends/family please email Don Connolly, race coordinator, at dconno@racedmc.com

We now have a 1/2 Triathlon option!

The 1/2 triathlon is ideal for those who still want to compete but due to various issues including time commitment, wanting to compete with a child or family member, or just for a less strenuous experience..this is for you! The 1/2 triathlon includes a 3 mile paddle segment, 2.5 mile run (or walk) and 8 mile bike ride, along with the after party. Price is the same for either full or 1/2 event.

Walking division is available for the Half Triathlon only, due to timing constraints

[*]Registration fee includes your canoe/kayak and equipment rental, chipped timing and the after-party including a hot meal with beverages. T-shirts are an optional purchase; Meals for non-participants can be purchased at time of registration. The Ft Ancient State Park is remote so there is not access to restaurants. Packing a picnic lunch is also an option for spectators.
| | | |
| --- | --- | --- |
| | | Important Details - Please Read |
Deadline for Packet Mailing:
Monday, May 23, 2016 8:00 PM Eastern Time is the deadline for your packet to be mailed.

After that your assigned start times will be 10:00 AM and beyond.
Your start time and instructions after 8:00 PM on May 23rd will be posted at www.racedmc.com
(click schedule).

You will pick up your packets at Morgan's Livery before you go up to park on event day only.
Be there before 9:30 AM to avoid a parking fee.

All instructions, etc. at:
www.racedmc.com

This extended registration will end on Thursday, June 2nd at 5:00 PM.

Assigning Start Times:
Times are assigned as entries are received currently starting at 8:45 AM for the canoes and 7:38 AM for the kayaks and every two minutes after that until noon. If you have circumstances that necessitate an early start time contact Don at dconno@racedmc.com If you want to start with another team also inform Don.

Confirmation Postcard and Packet Mailing:
We send out a confirmation postcard to the first person of the 2 person team with the assigned starting time. Packets with numbers, shirts, etc. are mailed out May 27 Thursday by Priority Mail and first class.

Let us know if you have moved. We mail only to your home address - not a third party.
| | | |
| --- | --- | --- |
| | | Benefits |
The Boy Scouts of America, The Cincinnati Association for the Blind, and Cancer Free Kids
| | | |
| --- | --- | --- |
| | | Questions? |
For all questions contact:
Gary Morgan
p: 513-310-9118
e: gmorgan5@cinci.rr.com

For special time requests and registration change questions contact results coordinator:

Don Connolly
p: 513-474-1399
e: dconno@racedmc.com

Or, please visit Don Connolly, Inc. at: www.racedmc.com for all race information and results.

website: www.morganscanoe.com<http://www.morganscanoe.com/>
---
When this page loaded, the official time was 7:33:15 AM EST.