Whidbey Island Marathon
in United States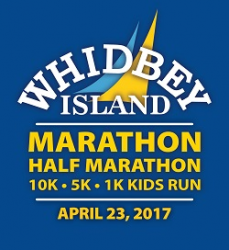 Marathon
Register up to (6) Marathon participants in a single transaction.

Online registration is closed for this category.




---

Half Marathon Run
You may register up to six Half Marathon participants in a single transaction.

Online registration is closed for this category.




---

Half Marathon Walk
You may register up to six Half Marathon participants in a single transaction.

Online registration is closed for this category.




---

10K Run/Walk
You may register up to six 10K participants in a single transaction.

Online registration is closed for this category.




---

5K Run/Walk
You may register up to six 5K participants in a single transaction.

Online registration is closed for this category.




---

1K Kids Fun Run
No cost for adults to run with their child/children

Online registration is closed for this category.




---

Group/Family Registration
You may register up to (6) individuals in the same transaction.

Online registration is closed for this category.




---
| | | |
| --- | --- | --- |
| | | Event Schedule |
Saturday, April 22, 2017

Expo
Registration + Bib Pickup 12:00 PM - 8:00 PM
Shirt + Goody Bag Pickup 12:00 PM - 8:00 PM

Location: more information to come


Sunday, April 23, 2017

Race Day
Bib Pickup time pending
Shirt + Goody bag Pickup time pending

Full Marathon Run 7:00 AM
Half Marathon Run/Walk 8:30 AM
10K Run/Walk 9:00 AM
5K Run/Walk 9:00 AM
1K Family Fun Run 10:00 AM
Finish Line Celebration 10:00 AM

*Shuttles - Hotel pick-up and return service locations:
In Oak Harbor - Coachman Inn, Best Western, Candlewood Suites, and Auld Holland Inn
| | | |
| --- | --- | --- |
| | | EXPO |
Saturday, April 22nd, 2017
Race Packet / Bib + Chip Pick-up
Race Shirt + Goody Bag Pick-up
Changing events? You can do this at the Expo
The Event Expo is FREE and open to the public


Expo Location
Location pending
Oak Harbor, WA

Vendor Opportunities
There are expo booth spaces available so if you are interested in promoting your business or organization at the event expo, please visit the Contact Us page.
| | | |
| --- | --- | --- |
| | | Course Information |
THIS IS NOT A CLOSED COURSE, PLEASE BE AWARE. The course will be coned, flagged and marked for your protection. We will have course marshals, certified flaggers and police stationed throughout the course, but please be aware of all traffic. We will have motorcycles as well as HAM Radio Operators monitoring the course and basic first aid needs available at all water stations. Water stations and porta-potties will be located every 1 1/2 - 2 miles on the course. There will also be electrolyte replacement drink at every other water station as well as energy gels energy gels in the Full Marathon at miles 6, 13, 17, 21 and in the Half Marathon at miles 4 and 10.

FULL MARATHON COURSE - coming soon
HALF MARATHON COURSE - coming soon
10K RUN/WALK COURSE - coming soon
5K RUN/WALK COURSE - coming soon

All participants will be chip timed.

Race Time Limit
The full marathon has a six (6) hour course time limit. If you are unable to make certain check points by the time needed to meet the six hour limit, we will pick you up and move you forward to the next check point, and average your current pace time accordingly to add to your overall finish time. Please allow us to do this as we have to meet road closure opening times.
| | | |
| --- | --- | --- |
| | | Local Area |
For information about the local area, please visit the following websites:
Whidbey & Camano Islands - includes lodging information
Oak Harbor Chamber of Commerce

Travel
Whidbey Island is approximately 95 miles north of Seattle. From Everett, it is approximately 1-hour driving time to Oak Harbor.
NOTICE: Sunday, April 23 - the Deception Pass Bridge will close at 6:15am for the 7:00am start of the Full. The bridge will reopen to traffic at approximately 7:30am. Please plan accordingly.

From Canada and points North - Take I-5 to the Anacortes exit. Proceed West on Highway 20 and follow signs to Oak Harbor.
From Seattle and points South - Take I-5 North. You then have the option of taking the Mukilteo ferry (every half hour) across to Whidbey Island and driving up to Oak Harbor (45-minutes), or continue North to the Anacortes exit. Proceed West on Highway 20 and follow the signs to Oak Harbor. BE SURE TO CROSS DECEPTION PASS BRIDGE BY 6:45AM on SUNDAY, to ensure you make it to the start of your event on time.


Transportation
Save Gas and Carpool - The Whidbey Island Marathon encourages participants to carpool to Whidbey Island for the event. Go to www.rideshareonline.com and create a posting if you have space in your car or see who might be able to give you a ride.
Whidbey-SeaTac Shuttle - Provides the only fast, direct, and daily transportation service between all communities on Whidbey Island and Sea-Tac International Airport. www.seatacshuttle.com/
Washington State Ferries - Check the ferry schedule prior to race day. As of this posting, the first ferry of the day will not get you to the island and allow sufficient travel time to reach the full marathon starting line prior to the start of the race. CHECK THE SCHEDULE! They change with the season. http://www.wsdot.wa.gov/ferries/
Island County Transit System - Check out Island Transit for all of your transportation needs while staying on Whidbey Island. Please note, there is no scheduled service on Sundays. www.islandtransit.org/


Weather
The average weather on Whidbey Island is slightly overcast to sunny on race day, with temperatures ranging on average from 52 degrees up to 65 degrees
| | | |
| --- | --- | --- |
| | | Race Amenities |
All registered participants for the Marathon, Half Marathon, 10k and 5k receive technical shirt and goody bag. Finishers in all events receive a finishers medal.

Clothing Check
Clothing Bag Check area will be located near the start line. We will provide bags for you to place your clothing in or you are welcome to bring your own as long as your bib number is placed on the outside of the bag. Under no circumstances should you place valuables in your bag. Finishers may claim their bag near the finish line.

Lost and Found
Any items found on the course will be brought to Clothing Check. Please see a clothing check volunteer if you have lost or found an item. All lost and found clothing not claimed at the end of race day will be donated to charity.

Water / Aid Stations
Water Stations will be located every 1-1/2 miles to 2 miles apart. Electrolyte replacement drinks will be at every other station with water and we will have energy gel at various stations. There will be basic medical supplies at each station including, but not limited to bandages, antiseptic creams, Vaseline for chaffing and heat blankets. Porta Potties will be located at each water station.
| | | |
| --- | --- | --- |
| | | Medals + Awards |
Each Marathon, Half Marathon, 10k and 5k finisher will receive a finisher's medal at the finish line.

-Male & Female Categories

Marathon
1st Place - $500
2nd Place - $300
3rd Place - Free entry to 2018


Half Marathon
1st Place - $400
2nd Place - $200
3rd Place - Free entry to 2018

Timing will be posted on the race results board located near the stage. Times will be available online after the race with your name and results.
| | | |
| --- | --- | --- |
| | | Run for a Day, Play for the Weekend |
Whidbey Island is the perfect island weekend getaway where you can leave the city behind. Just north of Seattle, nestled up in Washington State's Puget Sound is Whidbey Island. As a destination vacation playground for many, the island provides a vehicle accessible getaway from the busier mainland. Providing picturesque ocean views and tranquil farmland, the full marathon and half marathon courses promise to be scenic from country back roads to waterfront coastlines, snow-capped mountains and rolling hills.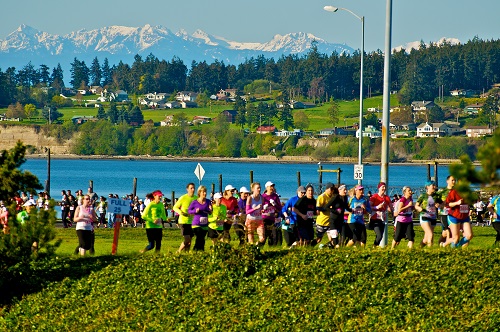 | | | |
| --- | --- | --- |
| | | Questions? |
For event-related questions, please click on the *Contact the Organizers* button on the left-hand side of this page.
---
When this page loaded, the official time was 5:27:24 AM EDT.