Wabash Valley Road Runners Club Membership
Friday, February 1, 2019
in Terre Haute, IN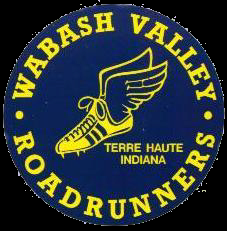 Adult Single Membership
All memberships expire February 2019.

» $15.00 membership (through the day of the event)
» $7.50 membership (through 2/1 at 11:59 PM EST)



---

Family Membership

at 11:59 PM


All memberships expire February 2019.

» $18.00 membership (through the day of the event)
» $9.00 membership (through 2/1 at 11:59 PM EST)



---

Youth Membership (under 18 years)

at 11:59 PM


All memberships expire February 2019.

» $6.00 membership (through the day of the event)
» $3.00 membership (through 2/1 at 11:59 PM EST)



---
* Click here for fee information
| | | |
| --- | --- | --- |
| | | What is WVRR? |
The Wabash Valley Road Runners Club is an organization that promotes and encourages running, walking and general physical fitness to the people of the Wabash Valley and beyond. One of our primary objectives is to educate the public of the benefits of running and walking. The Club accomplishes this by holding races; road, track and cross country. We have lectures, clinics, fun runs and quarterly meetings for all Club members to participate in.

The Club relies heavily on sponsorship for many activities and we therefore encourage our members to support these sponsors. Some sponsors give discounts to Club members.

We encourage Club participation for all members of the community that take an active interest in their fitness as will as other participants. We invite everyone to join the Club, whatever fitness level you enjoy.
| | | |
| --- | --- | --- |
| | | CLUB ACTIVITIES |
SWAMP STOMP - this is a 5 mile race normally held on the first Saturday in April each year at Hawthorn Park just east of Terre Haute. Much of this run is on the trails in the park. It's a great race which often lives up to its name!

THE MILE presented by Pacesetter Sports - 1 Mile run held on July 4th takes place on Brown Avenue at the northwest corner of ISU Memorial Stadium

MIDNIGHT RIVER RUN - This annual 5K race is normally held at at Fairbanks Park in Terre Haute on the last Friday in July.

ANNUAL PICNIC - the club holds a picnic each summer.

CROSSROADS HALF MARATHON - Held in the fall (normally the 2nd Saturday in September).

INDIANA FALL CLASSIC - Hawthorn Park is the site of the annual 10k race held on the second Saturday in November. The majority of this race is ran on the
trails in the park.

CHRISTMAS IN THE PARK - This is a 5K race held at Deming Park. There is also a 3K race for Middle School age and under. Held the 1st Sunday in December.

FUN RUNS - the club sponsors Fun Runs in both Terre Haute and Clinton, Indiana throughout the year.

ALL RACES ARE SUBJECT TO CHANGE WITHOUT NOTICE.

ALWAYS CHECK THE WEBSITE FOR THE MOST CURRENT INFORMATION.
---
When this page loaded, the official time was 6:43:18 AM EST.