Run for Sight 2021 - Ryan's Runners
Friday, July 30, 2021
in United States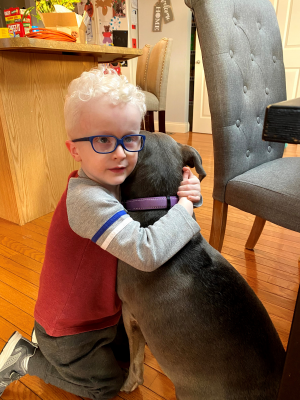 Ryan's story
Ryan was born on June 2, 2016 with the whitest hair his parents had ever seen. It wasn't considered unusual, as his father, Randy, was born with light hair as well.

Ryan grew quickly and was meeting all milestones until he reached 8 weeks old. His mother, Shannon, noticed that he was no longer focusing and his eyes moved in a rapid pendulum fashion. Ryan's pediatrician wasn't sure what was occurring and referred us to St. Louis Children's Hospital.

We met Dr. Lueder and quickly learned that Ryan has oculocutaneous albinism and congenital nystagmus. This was a shocking diagnosis to us, as we do not have any current family members with albinism. Dr. Lueder quickly pointed us to Delta Gamma Center, who sent a Service Coordinator and Teacher of the Visually Impaired to our home.

Over the last 4.5 years, Delta Gamma has become part of our family. They tracked Ryan's growth, learning, abilities and areas for us to work with him on. They walked us through the IEP process for preschool and pre-k, and what to expect for the future years as well. Delta Gamma has frequent events, monthly meetings with the kids (miss participating in person!), etc.

Please consider donating to this amazing organization!
Contributors on Behalf of Ryan's Runners
Donors
$100.00 from Karyn Riopel - Make a Donation
$100.00 from Susan Pratt - Make a Donation
$75.00 from Karen Dixon - Make a Donation
$50.00 from Mike Cook - Make a Donation
$25.00 from Julie Cash - Make a Donation
Donors total: $350.00
Event Participants
$59.00 from Shannon Smith - Virtual Events
Event Participants total: $59.00


Ryan's Runners has raised $409.00.
Ryan's Runners has a goal of raising $1,000.00.

progress: 40.90%




If you are the owner of this homepage, please login to make changes. Use the username and password you created or used when you registered for the event associated with this homepage.
---
When this page loaded, the official time was 12:02:29 PM EDT.