Virtual Run for Sight 2020 - Team Jackson
Monday, June 15, 2020
in United States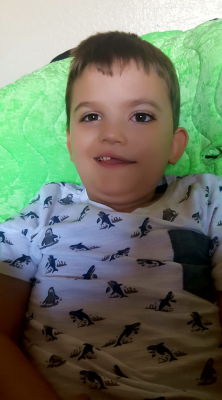 Welcome Back Team Jackson!
We are so excited to see you all back and welcome if you are new to Team Jackson! If you aren't aware yet, Jackson was born with Optic Nerve Hypoplasia; also known as ONH is a medical condition caused from the underdevelopment of the optic nerve(s). This condition is the most common congenital optic nerve anomaly. The optic disc appears abnormally small, because not all the optic nerve have developed properly. It is often associated with hormone deficiencies, developmental delay, and brain malformations.

Delta Gamma came into our lives when Jackson was 6 months old, after we received our official diagnosis of ONH. Without the love and support of this organization and our vision therapist Jo, we wouldn't be where we are at with Jackson. They showed us how to be his eyes for the world. Together we laughed, cried, and joined in triumph for all of Jackson's milestones and accomplishments met.

Delta Gamma Center for Children with Visual Impairments provides life-changing services to help ensure children can reach their full potential. DGC is the only organization in the greater St. Louis area specializing in services for young children who are blind or visually impaired and their families.

With your help I know we can help reach our goal of $2,500 this year! All proceeds go straight to help Jackson and kids alike. We are so excited to see Team Jackson grow each year and love all the support he is shown each and every year.

We will see you there!

Love,
Amanda, Sam, Ava, and Jackson!
Contributors on Behalf of Team Jackson
Donors
Raymond Van de Riet - Make a Donation
Aero Charter - Make a Donation
Donors total: $500.00
Event Participants
Michael ORourke - 5K Run
Diane Boehm - 2K Walk
Kelly Joseph - 5K Run
Derek Joseph - 5K Run
Tammy ORourke - 2K Walk
Sandy Breitenbach - 2K Walk
Dave Boehm - 2K Walk
Aubrey Webb - 2K Walk
Nate Aubuchon - 2K Walk
Brooke Webb - 2K Walk
Jayden Webb - 2K Walk
Amanda Betts - 5K Run
Ava Orourke - 5K Run
Samuel Betts - 2K Walk
Jackson Betts - 2K Walk
Event Participants total: $570.00


Team Jackson has raised $1,070.00.
Team Jackson has a goal of raising $2,500.00.

progress: 42.80%




If you are the owner of this homepage, please login to make changes. Use the username and password you created or used when you registered for the event associated with this homepage.
---
When this page loaded, the official time was 6:07:12 PM EDT.