Run and Walk for AIDS - TJ Strong
Saturday, October 6, 2018 in San Antonio, TX at Wheatley Heights Sports Complex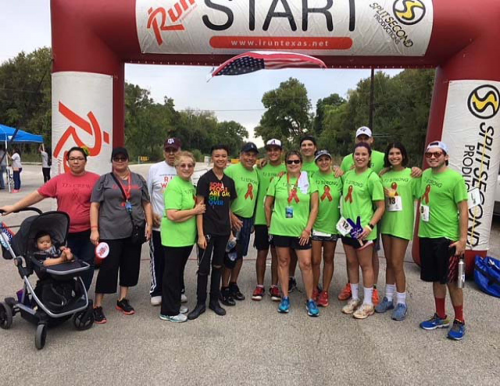 As you all know, in March 2011, I lost my beloved son, TJ, to this horrible disease. Since then, we have honored him and those affected by HIV/AIDS, by participating in the "Run and Walk for AIDS."

This is a time where we come together as family and friends and leave ALL judgment at the curb.

In the past we have raised money by raffling fragrance baskets and making & selling Fiesta wreaths. With our fundraising efforts in 2016 we were so excited to have come in 2nd place! For this year, we will be selling TJ Strong t-shirts for $20. All proceeds will go directly to SAAF.

If you wish to purchase a TJ Strong shirt, please let me or my sister, Crissy Herrera, know your size. You can pay for your shirt by directly going to the TJStrong link and submitting your $20 (or more!) donation.

I hope to see you on the morning of October 6, 2018 for fun, fellowship and most of all to celebrate TJ.

Thank you so much for your love, time, and support.

Go team TJ Strong!!
TJ Strong Members
$100.00 from Mando Gamboa, Chris Garcia, Patty Gamboa - Participant Registration
$100.00 from Juan Castilleja, Doris Castilleja - Participant Registration
$100.00 from Brandon Herrera, Logan Herrera, Rodney Herrera, Crissy Herrera - Participant Registration
$250.00 from Amanda Duffy - Snooze Crew
TJ Strong has raised $550.00.



If you are the owner of this homepage, please login to make changes. Use the username and password you created or used when you registered for the event associated with this homepage.
---
When this page loaded, the official time was 3:39:25 PM EDT.