Critz Tybee Run Fest
in United States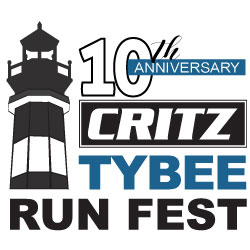 North Beach Bar and Grill 5K
In person registration is available February 1st at Critz BMW from 12-6pm
February 2nd at the 5K North Beach race site from 12-6pm.
February 3rd near the finish line at 16th Street - one block from the start
line.

Online registration is closed for this category.




---

The Collins Quarter 10K
In person registration is available February 1st at Critz BMW from 12-6pm
February 2nd at the 5K North Beach race site from 12-6pm.
February 3rd near the finish line at 16th Street - one block from the start
line.

Online registration is closed for this category.




---

Chu's Half Marathon
In person registration is available February 1st at Critz BMW from 12-6pm
February 2nd at the 5K North Beach race site from 12-6pm.
February 3rd near the finish line at 16th Street - one block from the start
line.

Online registration is closed for this category.




---

Lighthouse Pizza 2.8 Mile Beach Run
In person registration is available February 1st at Critz BMW from 12-6pm
February 2nd at the 5K North Beach race site from 12-6pm.
February 3rd near the finish line at 16th Street - one block from the start
line.

Online registration is closed for this category.




---

West Rehab 1 Mile Run
In person registration is available February 1st at Critz BMW from 12-6pm
February 2nd at the 5K North Beach race site from 12-6pm.
February 3rd near the finish line at 16th Street - one block from the start
line.

Online registration is closed for this category.




---

Military Registration
A valid Military ID will need to be present during packet pickup in order to pick up bib and shirt.

Online registration is closed for this category.




---

Register for All 5 Events
In person registration is available February 1st at Critz BMW from 12-6pm
February 2nd at the 5K North Beach race site from 12-6pm.
February 3rd near the finish line at 16th Street - one block from the start
line.

Online registration is closed for this category.




---

Byrd's Famous Cookies 1/7th Mile Kiddie Run

Online registration is closed for this category.




---

Sponsor Registration
Code required.

Online registration is closed for this category.




---

Donation Only - Not a Race Entry

Online registration is closed for this category.




---
| | | |
| --- | --- | --- |
| | | General Info |
Packet Pick-Up and Expo
Thursday, February 1st
12:00pm - 6:00pm
Critz BMW Savannah
7009 Abercorn St., Savannah, GA 31406

*Please present registration confirmation at packet pick-up.

For out of town runners or last resort, packets will be available to pick up:
Friday, February 2nd
12:00pm - 6:00pm
33 Meddin Avenue, Tybee Island, GA 31328 (North Beach site near Tybee Lighthouse)

Saturday, February 3rd
For the 10k: 6:15am - 6:45am
For the Half Marathon: 7:15am - 7:45am
1605 Strand Ave, Tybee Island, GA 31328 (South Strand information tent near the finish line)

FRIDAY, FEBRUARY 2nd, 2018
Friday races start and finish at the Lighthouse, 30 Meddin Ave, Tybee Island, GA 31328

Byrd's Famous Cookies 1/7 Mile Kiddie Run - 6:00pm
Registration is free for all participants, but is required to receive race shirt, bib and finisher's medal.

North Beach Bar and Grill 5K - 6:15pm
Immediately following the 5K, stick around for food and drinks.

SATURDAY, FEBRUARY 3rd, 2018
All Saturday races start on 15th Street and finish on 16th Street.

The Collins Quarter 10K - 7:00am

Chu's Half Marathon - 8:30am

Lighthouse Pizza 2.8 Mile Beach Run - 12:00pm

West Rehab 1 Mile - 1:00pm

Final Overall Awards Ceremony - 1:30pm
The ceremony will be held at the post race party near the finish line.

Awards will be presented for each individual event directly following each event.
| | | |
| --- | --- | --- |
| | | Race Weekend Parking Information |
You will be ticketed or possibly towed if you park illegally in any of the following places:
Non-recognized legal parking spaces, Yellow curbs, Fire hydrants, Driveways or in front of driveways, Residents' yards, Areas with limited time restrictions

The City of Tybee Island has Pay-and-Display equipment.
The rates vary depending on location and lot.
Parking is enforced 8:00AM to 8:00PM year-round, including weekends and holidays.
Parking can be purchased via coins or credit card. For more details, please visit this link.

SUGGESTED PARKING FOR 5K ON FRIDAY

Parking will be available at the South End of the Island (trolley service from the Hotel Tybee stop), in the North Beach parking lot. Limited overflow parking will be available at the Tybee Police Station, located on 78 Van Horne Drive.

After these lots are filled, parking will only be available at the South End of the Island. Please make sure to plan enough time to use the trolley service.

Old Savannah Tours white trolleys will be running every 15 minutes from Hotel Tybee, making a stop on Butler Avenue near the YMCA, to drop off at the Lighthouse between 4:00pm and 5:30pm. After the race, the trolleys will be running from the Lighthouse to Hotel Tybee until 8:30pm.

SUGGESTED PARKING FOR SATURDAY'S EVENTS
All south lots that are available, Any side streets on the east side of the island from 15th to 6th Street, At Hotel Tybee

If you are running the 10K and arrive early enough, the South Beach parking lot on the Strand will be available. If you are traveling south, you can access this parking lot by turning left off of Butler Avenue onto 17th Street.

IF YOU ARE RUNNING THE HALF MARATHON, WE STRONGLY RECOMMEND YOU ARRIVE AND PARK BEFORE THE 10K 7:00AM START TO AVOID TRAFFIC DURING THE RACE.
| | | |
| --- | --- | --- |
| | | Dining |
North Beach Bar and Grill - 33 Meddin Drive, Tybee Island, GA 31328
North Beach Bar and Grill offers an amazing menu that will tantalize even the most reserved palate. Serving eclectic fusion dishes with a Caribbean flair, featuring local, sustainable seafood and the freshest ingredients to hot dogs, crab cake sandwiches, fish tacos, and wings in their quaint beach shack by the sea.

Lighthouse Pizza - "Beach" 15 Tybrisa St., Tybee Island, GA 31328 - "North" 1105 Highway 80, Tybee Island, GA 31328 - "Islands" 346B Johnny Mercer Blvd. Savannah, GA 31410
Visit Lighthouse Pizza for pizza topped with your choice of 30 toppings, cheeses & sauces on fresh-made dough. Not in the mood for pizza? Choose pasta, wings, or salad, and finish off with a blueberry cheesecake calzone, dessert pizza or soft serve ice cream at our Beach location. Enjoy your meal with craft beer, wine or soft drinks.

Wet Willie's - 16 Tybrisa St., Savannah, GA 31328
Enjoy the World's Greatest Daiquiris at Wet Willie's. Run right past them to the finish line! Then stop by for a Call a Cab or a yummy bite to eat, and enjoy a stroll with a daiquiri to the beach right down the street. Great food, great drinks, great people and an awesome time: that's what they're all about.
| | | |
| --- | --- | --- |
| | | Area Lodging Partners |
Tybee Vacation Rentals
Stay just steps away from the race! Tybee Vacation Rentals professionally manages over 200 homes, condos, & cottages for all budgets. Offering special pricing for race participants. Stay with Tybee Vacation Rentals for 2 Nights and Save 10%, or Stay 3+ Nights and Save 20%.

Desoto Beach Hotel and Vacation Properties
Choose from their 7 Unique Vacation Properties: From the Award Winning Desoto Beach Hotel, Tybee's ONLY Beachfront Hotel!... To their elegantly appointed Bed & Breakfast with just 3 romantic rooms, circa 1936... And 5 Beautiful Vacation Rentals that sleep from 4 to 14 depending on the property. No typical hidden fees. They have accommodations to fit any and all of your lodging needs.

Hotel Tybee
Voted "Tybee Island's Best Hotel" 2015! Hotel Tybee's historic property overlooks the Atlantic Ocean, with 208 remodeled guest rooms featuring private balconies, flat screen TVs, microwaves, mini refrigerators, and high speed internet access. This unique hotel offers an onsite restaurant, two outdoor pools, pool side refreshment bar, gift shop, food pantry, free parking, 24-hour guest agent services, and is just steps away from the beach.

Southern Belle Vacation Rentals
Southern Belle Vacation Rentals offers a wide variety of properties on Tybee and in the Savannah Historic District, with great options for your stay during the race weekend. Book directly through: www.southernbellevacationrentals.com, or call 912-289-0130.

Tybee Joy Vacation Rentals
Make your stay on Tybee Island joyful with Tybee Joy Vacation Rentals by Natural Retreats. Choose to stay in one of their pristine and conveniently located vacation rental homes, cottages, or condos. Call the Natural Retreats' Xplore Team at 877.805.7794 for special offers for race participants.

Beachside Colony Resort
Just steps away from the race! Beachside Colony Resort is Tybee Island's only all-inclusive oceanfront resort. With an array of accommodations for families of all sizes, our townhomes and condominiums include amenities such as ocean-side dining and swimming, fully equipped kitchens, direct beach access, and some of the most magnificent views on Tybee.
Runner Discount: Use promo code "TCR" for a 15% discount off your weekend stay with Beachside Colony Resort. Book online at www.Beachsidecolony.com or call us directly at 1-800-786-0770.
| | | |
| --- | --- | --- |
| | | Packet Pickup and Expo |
In person registration is available February 1st at Critz BMW from 12-6pm
February 2nd at the 5K North Beach race site from 12-6pm.
February 3rd near the finish line at 16th Street - one block from the start line.
| | | |
| --- | --- | --- |
| | | Questions? |
For event-related questions, please click on the Contact the Organizers button on the left-hand side of this page.
---
When this page loaded, the official time was 9:53:07 AM EDT.